SEEKING PUBLIC COMMENT
for DVP-09-2020 (1710 Whitesails Dr. Lot 156)
PROJECT DESCRIPTION:
A Development Variance Permit application has been submitted for 1710 Whitesails Dr, Lot 156 (shown below) to reduce sea setback for construction of a house. The application includes an offer of a restrictive covenant to protect approximately half the lot from future development.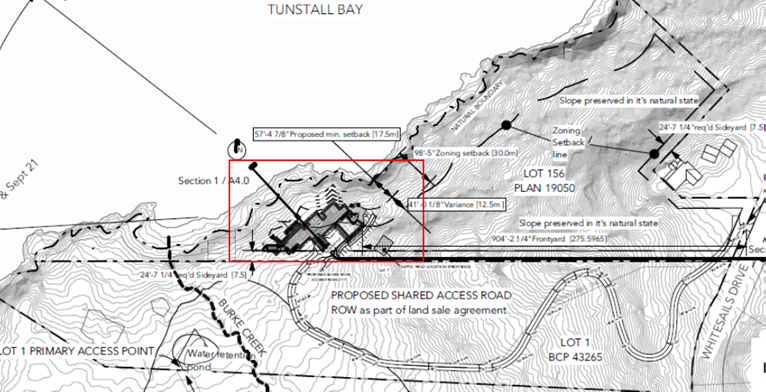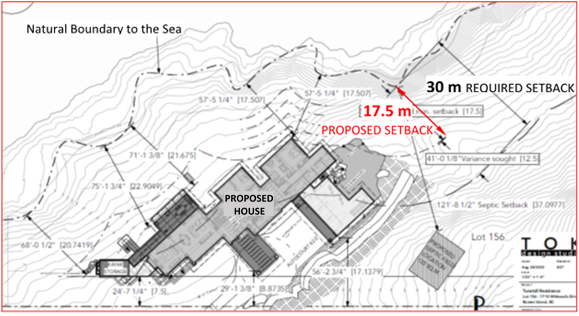 TIMELINE:

YOUR COMMENTS ARE WELCOME:
Written submissions may be delivered by 4:30 PM, Friday November 6th to Municipal Hall (contact information below):
In person at the mail drop-off box
By mail
By email to bim@bimbc.ca
Submissions may also be made to Mayor and Council at the meeting:
6:15 PM on Monday November 9, 2020
Online via Zoom
Read the instructions on how to comment at the public meeting.

To ensure a fair process, submissions cannot be accepted once the meeting is underway and the Public Comment section of the meeting has concluded.
Questions? Please contact Emma Chow, Island Community Planner, at 604-947-4255 or by email at echow@bimbc.ca
Background Information
October 13, 2020 Introduction to Council – Staff Report
October 13, 2020 Presentation to Council