Bowen Island joins jurisdictions across Canada in marking May 7-13, 2023 as Emergency Preparedness Week.
Safety begins at home with individual and family preparedness. When disaster strikes, emergency workers may not reach everyone immediately, or even for several days. Families should be prepared to take care of themselves for a minimum of 72 hours, and ideally for longer. The impacts of any emergency or disaster can be lessened by knowing what to do before, during and after an emergency and by identifying the risks, having a plan and a kit prepared.
During Emergency Preparedness Week, islanders are encouraged to take simple steps to become better prepared to face a range of emergencies:
Know the risks specific to our island community

Earthquakes and wildfires are the main hazards for our community on Bowen. This helps us focus our prepartations, navigate disruptions and get back up and running sooner.

Build your emergency kit and grab-and-go bag. Create a basic supply list for you, your family and your pets.
After a disaster, you may need to:

Stay at home with an emergency kit or
Leave immediately with a grab-and-go bag

Make your emergency plan
Emergencies can be stressful. An emergency plan is a guide to help you and the people you live with, respond more calmly.
Are you registered for emergency notifications?

The Bowen Island public notification system is now powered by Alertable. It can quickly and effectively notify residents by calling your home phone, cell phone or work phone, sending a text, and/or emailing you important information or instructions.
Emergency Preparedness Week Themes
Emergency Guide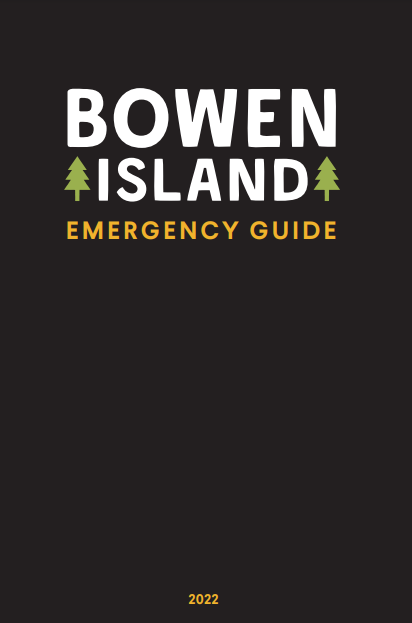 We've updated the Emergency Guide for islanders in 2022. You can order your free copy at Municipal Hall or download it from our website.
More resources: