How to apply for a Business Licence
Step 1: Determine category (see category descriptions below for more information).
Step 2: Complete and sign the application form.
Step 3: Complete and sign all required schedules.
Step 4: Send all completed and signed application form and schedules to businesslicence@bimbc.ca or drop them off at Municipal Hall.
Business Licence Review Process
August 2023 – Currently the business licence review process is taking longer than 3 weeks. Please be patient as we work through reduced hours and staff training.
The licence review will generally take a minimum of 3 weeks. Some reviews may require additional information and will take longer to process. Licence reviews include zoning, building, driveway access, fire safety requirements and may require Vancouver Coastal Health approval.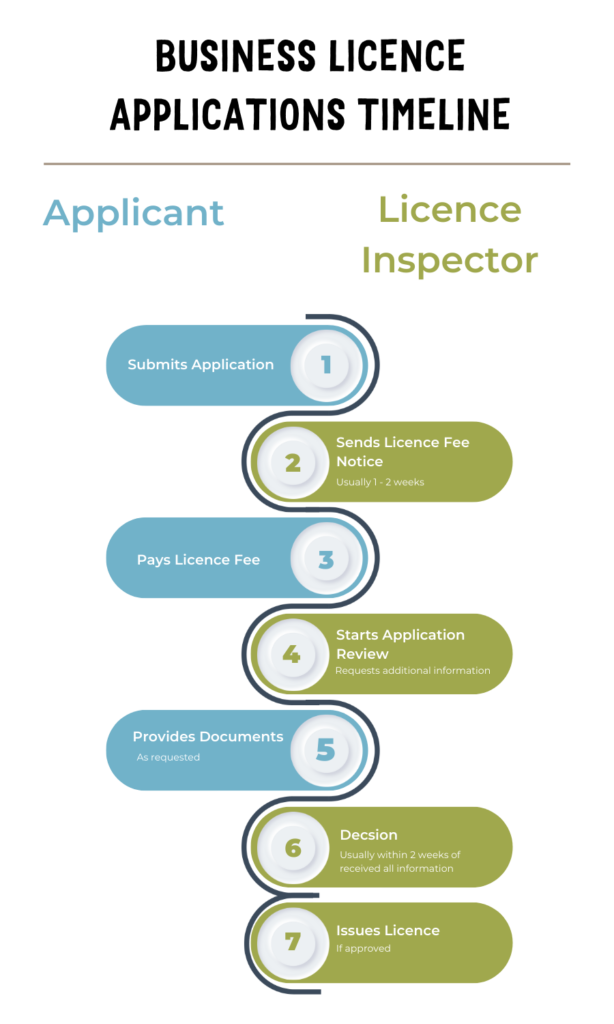 General Information
All business licences expire on December 31, regardless of the date that the licence was issued. The business licence application includes an option to automatically renew for subsequent years.
The licence fee is reduced by 50% for applicants that start all business activity after July 31.
There is no refund for a business that stops operating at any point during the year.
Your business licence must be issued before you begin operating or advertising on Bowen Island.
Categories
What do you need to know once you have a licence?
Changes to your Business
Please contact Bowen Island Municipality with any changes to your business operation.
Changes to your business that we need to know about include but are not limited to:
a change to contact information
an address change
a change to the Designated Individual for an RGA,
adding rooms to a B&B,
a change of category such as from a contractor to commercial or home-based without public access to one with public access.
If you close your on Island business or if your non-resident business will no longer be operating on Bowen Island.
Business licences are not transferable. If you sell your business, your business licence is cancelled and the new owner must apply for a business licence.
What Communications You Can Expect
Annual renewal information emails and notices. Once the licence fee has been processed you will no longer receive these emails.
You may recieve emails about changes to regulations for your licence category.
You could also receive emails from the Community Economic Development Committee. (CDEC) Let us know if you do not want to recieve CDEC communications.
Most communications are by email, Questions? Please call or make an appointment to talk to a staff member in person.
Business Search
Business Search is an online search tool for all businesses that are licenced to operate on Bowen Island. Your listing will be based on the information provided on your licence application.
Personal email address such as "yourname@hotmail.com" and home addresses will not be included in the Business Search.
If you would like to make changes to your listing or add additional "tags" just contact us at the email address below.
If youd don't want to be included in the Business Search, just let us know
Renewal Process
In December you will recieve an email reminding you if you have chosen to renew or let your licence expire. This email gives you an opportunity to change your renewal status.
In the first week of January renewal notices will be emailed to all licence holders that indicated they want to renew their licence. This notice includes the licence fee amount and the ways it can be paid.
Licence fees must be paid before January 31st.
After January 31st one overdue notice will be sent to all unpaid accounts before the account is forwarded to Bylaw Services for enforcement action including fines.
Questions? Please contact the Business Licence Inspector at: businesslicence@bimbc.ca or 604-947-4255.