Due to an overwhelming response we are unable to schedule any more home assessment appointments at the moment. Please check back later.
Bowen Island is a FireSmart Community. This program provides residents with guidance to significantly reduce fire hazards in their neighbourhood.
The FireSmart program is designed to encourage local, self-organized groups of neighbours to implement solutions for wildfire safety by engaging and supporting homeowners, community leaders and others in shared efforts to protect people and property from wildfire.
The first step to becoming FireSmart is to educate yourself, your family and your community. Find out what you need to know to increase the wildfire resiliency of your property and neighbourhood.
FireSmart Program
What you can do:
FireSmart Rebate
To qualify for a rebate (approximately $500), complete the FireSmart Rebate Application. Keep all documentation, photos and receipts as you may be asked to provide them before a rebate is issued.
Must have a FireSmart Home Ignition Assessment prior to doing any work
Must complete work within six months of assessment
Residential property owners can complete work themselves or hire contractors to do the work
Only activities recommended in the completed Assessment are eligible for rebate
Residential property owners must submit the following:

Keep before and after photos of each project
Keep track of FireSmart Work Hours Form
Keep receipts of incurred expenses where applicable
What is FireSmart?
FireSmart is an initiative to help property owners understand the ways in which wildfire might threaten structures and property located in, and close to, forested and wildland areas, and the steps individuals and communities can take to reduce the susceptibility of buildings and property to fire.
Protecting your home from wildfire starts with simple actions. Whether you are doing regular yard maintenance or making large scale changes during renovations or landscaping, you can make choices that will help protect your home from wildfire.
Wildfires become particularly devastating when they encroach on human settlements and critical infrastructure. When this occurs, they are considered Wildland Urban Interface (WUI) fires and can be extremely destructive. Many residential dwellings on Bowen Island are surrounded by dense forest and low-lying brush, increasing the vulnerability to WUI fire spread.

Background
Bowen Island's 2022 Community Wildfire Resiliency Plan provided 46 recommendations and action items to help reduce the wildfire threat to neighbourhoods within the plan's wildland-urban interface. FireSmart activities on private property is the number one recommendation and the Bowen Island Municipality is offering free FireSmart Home Ignition Zone assessments to interested residents starting in September 2023. A Home Ignition Zone assessment is an opportunity to receive in-person recommendations from a Local FireSmart Representative on how to help reduce the risk of wildfire to your home and property.
FireSmart Home Ignition Zone Assessment
Assessments are currently on hold due to overwhelming demand.
The FireSmart Home Ignition Zone Assessments will be conducted by local FireSmart representatives from B.A. Blackwell & Associates (Blackwell). The level of wildfire risk to each home will be assessed and specific vulnerabilities that homeowners can mitigate will be identified to help improve their resilience to future fire events.
The assessment is free of charge and the homeowner is under no obligation to complete any of the recommended works. This is primarily an education exercise with recommendations toward making some simple structure and landscaping changes. Those who conduct the recommended works may be eligible for the FireSmart rebate program. To be qualified for the program, a Home Ignition Zone (HIZ) assessment is required.
Assessments will be by appointment only and delivered upon a "first come first served" basis. The date(s) for assessment is yet to be determined but a minimum (6) registrations are required to initiate an assessment date. By registering, you are granting staff from Blackwell access to your property who will assess all the exterior building materials and surrounding vegetation. No access to inside your homes/structures is required. While you are welcome to be present during the assessment, your presence is not required. Upon the completion of the assessment, a paper copy will be left at your home but we keep the digital record on file as required by the funding program. Each assessment takes approximately one hour, and will be based on the FireSmart Home Assessment Score Card and FireSmart Begins at Home Guide.
During the assessment, building construction types and materials, landscaping around homes, and the presence and distribution of combustible materials are analyzed and given a score on the associated FireSmart Home Ignition Zone Assessment Scorecard. The scorecard assesses the following, by the three FireSmart Home Ignition Zones (see Figure 1 below):
Home — Homes, apartments, and attachments to these buildings such as decks and balconies were assessed throughout this section. In addition, roofs, gutters, eaves, vents, siding, and windows are all integral features of buildings that were evaluated based on FireSmart standards.
Immediate Zone (0m – 1.5m) — Storing combustible items (i.e., construction materials, tools, decorative pieces, etc.) against or near a structure is a major fire hazard. A non-combustible surface, extending around the entire structure, including all attachments should exist to reduce the chance of wind-blown embers igniting nearby materials.
Intermediate Zone (1.5m – 10m) — FireSmart landscaping within 1.5-10 m of the structure, including low-density fire-resistant plants and materials and the absence of woody debris, will decrease ignition potential and increase transmission resiliency of fire to the structure.
Extended Zone (10m – 30m)؅ — Conifers within 10-30 m of the structure should be pruned to at least 2 m from the ground and thinned to create at least 3 m of horizontal space between the single or grouped tree crowns to reduce wildfire hazard. Frequent removal of accumulations of fallen branches, dry grass, and needles should occur to eliminate potential surface fuels.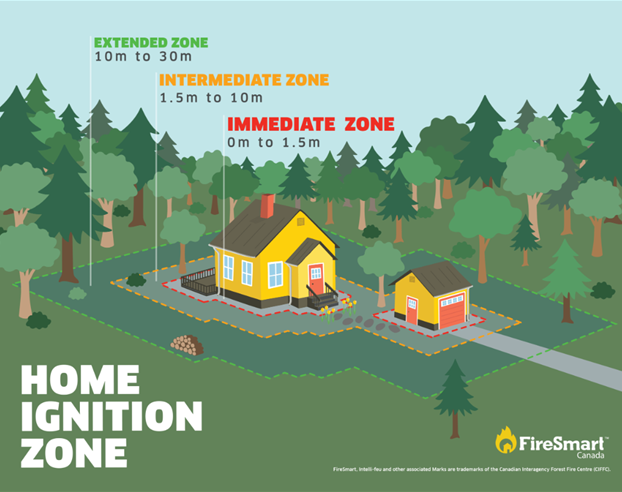 FireSmart Construction
In this video, Squamish resident Greg Straiten talks about how taking a FireSmart approach to construction ended up saving his home.
Greg Straiten FireSmart Testimonial from FireSmartBC on Vimeo.
FireSmart 101
FireSmart Canada has developed a FREE one-hour course for those who are getting started with FireSmart and want to learn more. FireSmart 101
provides an introduction to FireSmart and its principles
helps participants understand the need to protect homes and properties from wildfire
defines the wildland urban interface
outlines the seven FireSmart disciplines
explains the FireSmart the home ignition zone.
FireSmart on Bowen Island – Brochure
Bowen Island Municipality has produced an island-specific brochure on FireSmart activities in our coastal forest environment. You can download a PDF of the brochure or pick one up at Municipal Hall.
Bowen Island FireSmart Brochure
Additional Resources
Video: FireSmart Presentation with Bruce Blackwell, May 27, 2020
Video: FireSmart Workshop with Bruce Blackwell, April 11, 2019
Bowen Island FireSmart Brochure
FireSmart Begins at Home Manual
FireSmart Guide to Landscaping