How we plow
The Municipality clears snow and ice from public roads according to the Roadway Level of Service – Winter Maintenance Policy. On call road crews monitor weather conditions and forecasts to be ready to respond in snowy and icy conditions. Crews salt and plow the roads in the following order of priority:
Primary routes – main roads and bus routes
Secondary routes, once the snow fall has stopped
Tertiary routes, after the snow fall has stopped and all other main and secondary roads are passable. In the event of continual snowfall, it will take longer for plows to reach tertiary routes because primary and secondary roads require additional attention.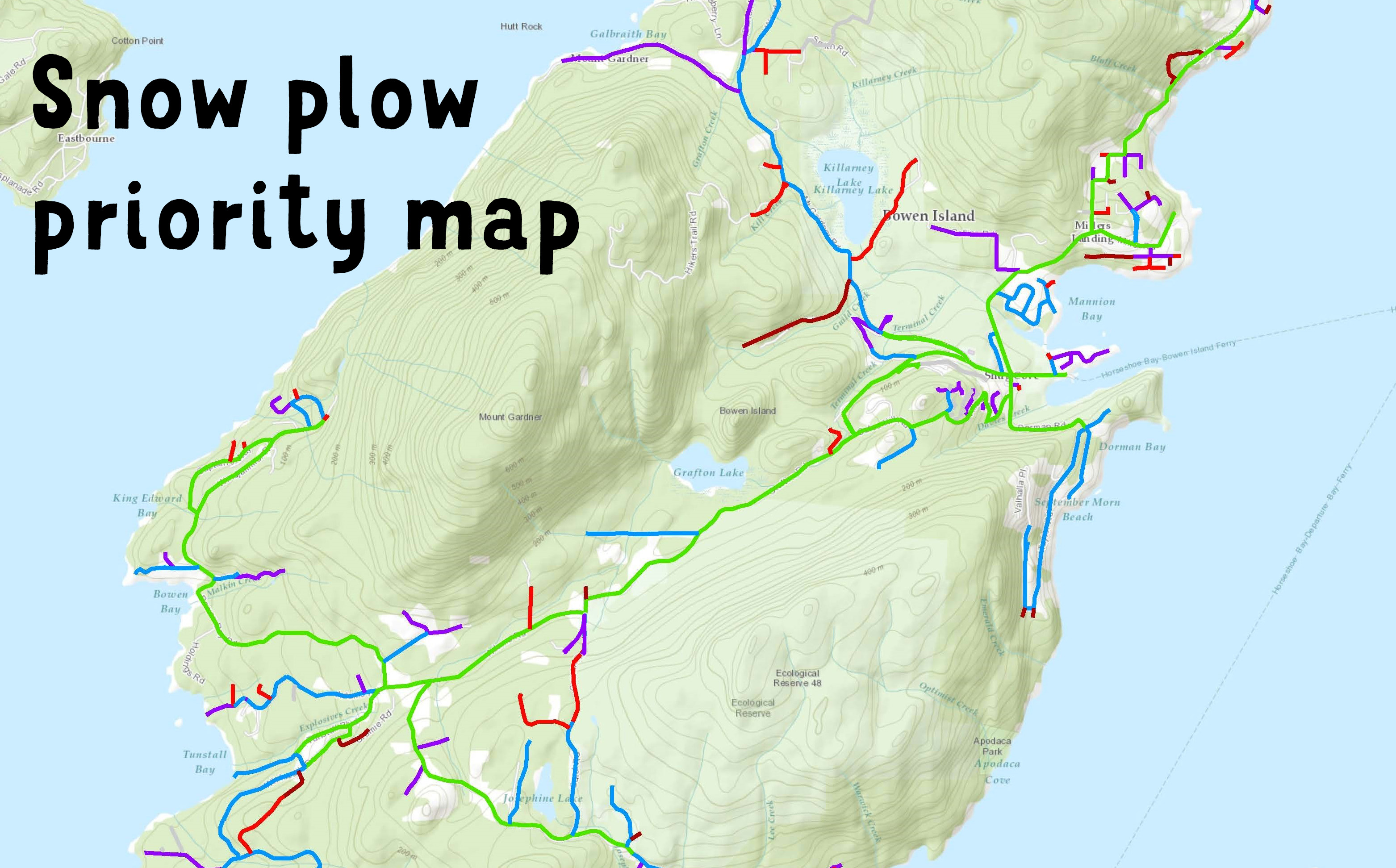 The Snowplow Priority Map shows which roads are deignated primary, secondary and tertiary. We do not clear private or strata roads.
Questions? Please contact Public Works.
Help us help you
Make room for plows. Vehicles parked on narrow roadsides make it difficult or impossible for plows to get through. There are many dead-end roads on Bowen. If a plow is unable to turn around at the end of a road, it can't clear the road.
Sidewalks
Property owners are responsible for making sure the sidewalks next to their property are kept clear of snow and ice, to ensure the safe passage of pedestrians.
Shovel first, then salt
On sidewalks, walkways and driveways, clear the bulk of snow away with a shovel or other snow removal device, then apply salt or sand. Monitor weather conditions and snow buildup, and repeat as necessary. Even if it's not snowing, ice may form on surfaces. In this case, use salt to melt the ice and sand to improve traction.
How to prepare for snow and cold weather
stock up on salt and sand
install quality snow tires on your vehicle before the first snow; if you do not have snow tires, do not attempt driving in snowy or icy conditions on Bowen's steep hills
keep a snow shovel, ice scraper and snow brush handy
take public transit if possible
stock up on water and non-perishable food
if you cannot clear snow yourself, pre-arrange snow removal for driveways, decks and roofs from a contractor
Emergency vehicles
Fire trucks, ambulances and police vehicles carry chains to help them drive in bad road conditions. Please keep in mind that private vehicles parked on roadsides can impede the passage of emergency vehicles on narrow roads.