Bowen Island Municipality has a special relationship with the Islands Trust that is set out in its Letters Patent and the Islands Trust Act. Bowen Island Municipality must have regard for the "Preserve and Protect" Object of the Trust when adopting a bylaw or issuing a permit or license, must submit its Official Community Plan (OCP) bylaws for approval and refer non-OCP bylaws that include a reference to a matter included in the Islands Trust Policy Statement. The Islands Trust and Bowen Island Municipality also have a Protocol Agreement that describes the principles and processes that underpin our positive relationship.
Bowen Island is represented on the Islands Trust Council by two Municipal Councillors, elected through a 'double-direct' system during regular local government elections. For the 2018-2022 term, Trustee Sue Ellen Fast and Trustee Judith Gedye are elected to Islands Trust Council. Trustee Fast is on the Trust Programs Committee. Trustee Gedye is Chair of the Islands Trust Governance Committee.
The Islands 2050 Policy Statement Amendment Project is designed to help Trust Council plan for the challenges and opportunities that the Islands Trust Area will face over the next 30 years.
This work involves updating the Islands Trust Policy Statement, which contains the policies that Trust Council uses to carry out its special provincial mandate to preserve and protect the unique amenities and environment of the Trust Area. The Policy Statement shapes land and marine use planning across the Trust Area, but the current version has not been substantively updated since 1994, and a lot has changed since then.
The Policy Statement is now being updated to be current, to adapt to future challenges, and to take advantage of new and developing opportunities. In particular, it seeks to update the document to better address Trust Council's priority themes of reconciliation, climate change, and affordable housing.
Visit islandstrust.bc.ca/programs/islands-2050 for more information, including a link to the online survey, virtual and in-person community events, and the discussion guide.
Islands Trust Conservancy
The Islands Trust Conservancy, which manages more than 100 protected areas in the Islands Trust Area, was created by the Province of British Columbia in 1990. As a regional land trust and conservation arm of the Islands Trust, the Islands Trust Conservancy protects in perpetuity ecologically significant and culturally sensitive places. The Conservancy works closely with partners, First Nations, and the public to protect sites through land donation, conservation covenants, land purchases, land transfer during development processes and public education. The Islands Trust Conservancy plays an important role in preserving and protecting the unique and fragile ecosystems found in the Strait of Georgia and Atl'ka7tsem – Howe Sound.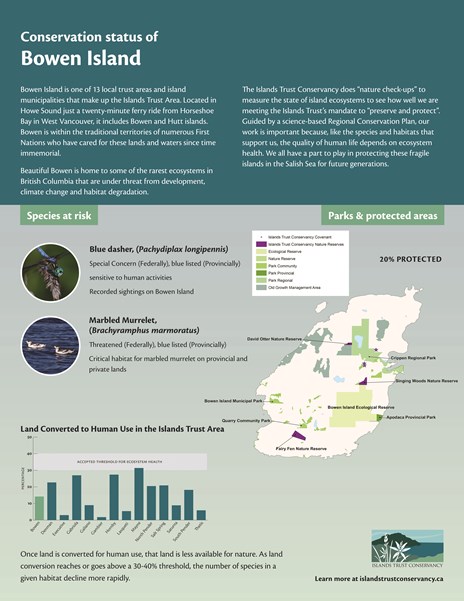 On Bowen Island, the Conservancy manages the David Otter Nature Reserve, the Fairy Fen Nature Reserve, the Singing Woods Nature Reserve, and two conservation covenant areas. The Conservancy welcomes inquiries from landowners interested in donating or covenanting their lands, or donating cash or securities to support this work. A number of landowners have donated properties and money through their wills.
McIntyre Conservation Covenant
Terminal Creek Conservation Covenants
Regional Conservation Plan (For Bowen Island info see pages 56 – 60)
MapIT
Islands Trust offers Bowen Island mapping information to the public on MapIT. In addition Bowen Island Municipality staff and contractors use Islands Trust mapping software. Islands Trust ecosystems maps for Bowen Island include:
Property taxes paid to Islands Trust
Property owners on Bowen Island pay property taxes towards the Islands Trust which are collected by Bowen Island Municipality as part of the annual requisition. The amount of taxes collected on behalf of Islands Trust is based on the Islands Trust Act and Trust Council's Municipal Tax Requisition Calculation Policy.
Bowen Island taxpayers contribute to the work of Trust Council and the Islands Trust Conservancy. Bowen Island does not contribute to the operation or planning work of local trust committees. General information regarding Bowen Island Municipality inclusion in Islands Trust programs can be found at this link.
Each year, the Islands Trust Council undertakes public consultation on its proposed budget. If you would like to receive notice of the consultation, please subscribe for Islands Trust Council updates. Information on previous Islands Trust budgets are available on the Budget webpage.