Tax deferment is a low interest loan program that helps qualified B.C. homeowners pay their annual property taxes on their principal residence.
All applications and renewals must go directly to the B.C. Government. Bowen Island Municipality can no longer accept deferment applications or renewals.
Renewal Deferment Application
Please renew your deferment online through the province.
Click on the 'Apply or Renew' button.
New Deferment Application
Apply on-line through the province.
If you do not have access to a computer, contact the Provincial Property Tax Deferment office at 1-888-355-2700
Important: before July 4, 2023 (to avoid penalty), you still need to:
Claim your Home Owner Grant and
Pay your Property Tax Arrears if you have outstanding taxes
If you have questions about the Property Tax Arrears, contact us at finance@bimbc.ca or 604-947-4255 extension 8.
Tax Deferment Contact Information
Phone: 250-387-0555 or toll-free 1-888-355-2700
Website: gov.bc.ca/propertytaxdeferment
Email: taxdeferment@gov.bc.ca
Application and renewal tips
A Service BC Provincial loan program that allows eligible home owners to defer all, or part, of their annual property taxes
You will still need to:
Pay Previous years taxes, penalties
Claim Home Owner Grant
Complete the on-line application available, once property tax notice received in May.
Complete applications must be submitted on or before the Property Tax Due Date to avoid penalties
2 types of programs: Families with Children and Regular Deferment
More information: Service BC Deferment Information
Having trouble filling out your tax deferment application form?
If your ROLL NUMBER is fewer than 8 digits, add zeros in front to make 8 digits.
EXAMPLE: Your ROLL NUMBER is 12345.
ENTER: 00012345 on your application form.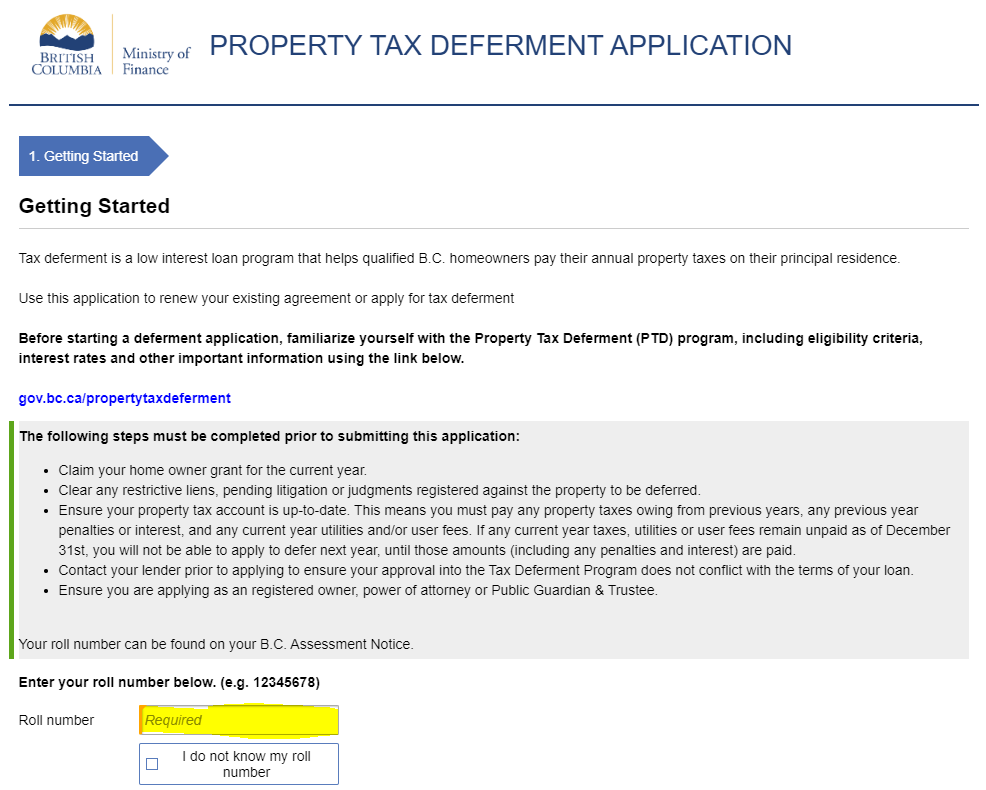 If renewing your loan agreement, use the AGREEMENT NUMBER on the top of BC Government Property Tax Deferment Program correspondence.
EXAMPLE: The AGREEMENT NUMBER from your renewal notice is PTD-1234-5678
ENTER: PTD-1234-5678
Questions? Please contact 1-888-355-2700 or TaxDeferment@gov.bc.ca