The map below shows public and pay parking options in Snug Cove.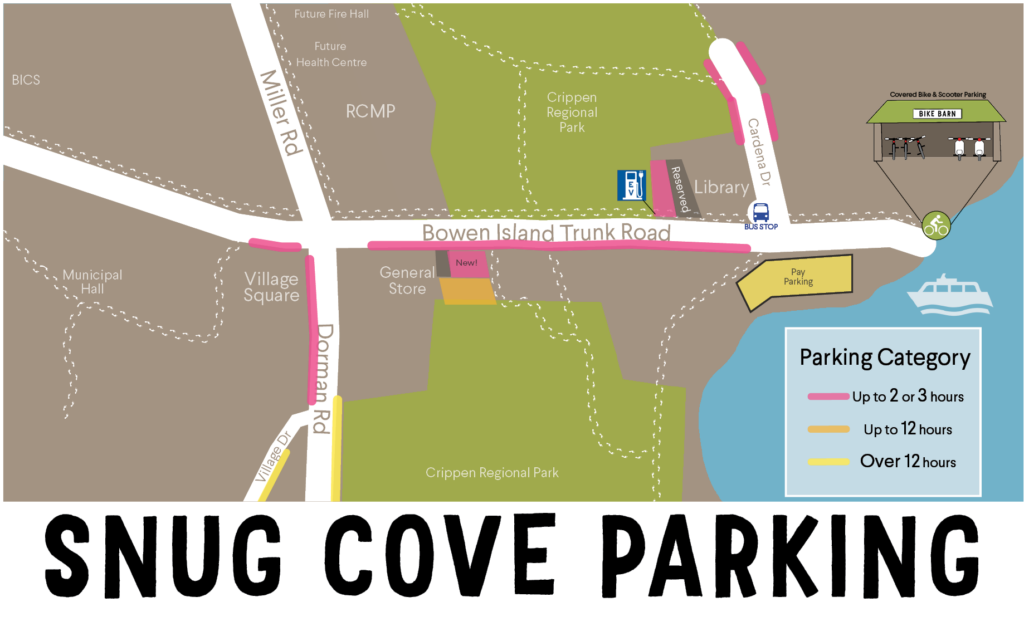 Free parking next to the General Store
The front section of the former pay parking lot next to the General Store is now leased by the Municipality. You can park there for free up to three hours. Please take notice of the signage that indicates 20 minute General Store spaces.
Commuter parking
The back section of the parking lot next to the General Store is reserved for commuters and those who take public transit. Look for the signs indicating commuter parking.
Electric Vehicle charging stations
There are two EV Charging Stations in the parking lot next to the Library at 431 Bowen Island Trunk Rd. These are paid charging stations for up to three hours of use. Users must have a Flo account.
72 hour parking
Parking is permitted for up to 72 hours on road allowances without posted restrictions. Vehicle tires must be completely off the paved portion of the roadway.
On the West side? Try Park & Ride!
If you don't want to spend your time looking for parking in the Cove, you can park for free at the Park & Ride at 1421 Adams Road (Satellite Fire Hall) and take the C10 Bluewater-Snug Cove bus to meet the ferry. Use your Compass card to tap on and you can transfer to a bus in Horseshoe Bay on a single fare.
We are currently collaborating with TransLink to have a bus stop number installed at the Park & Ride where you can access TransLink's Next Bus tool.