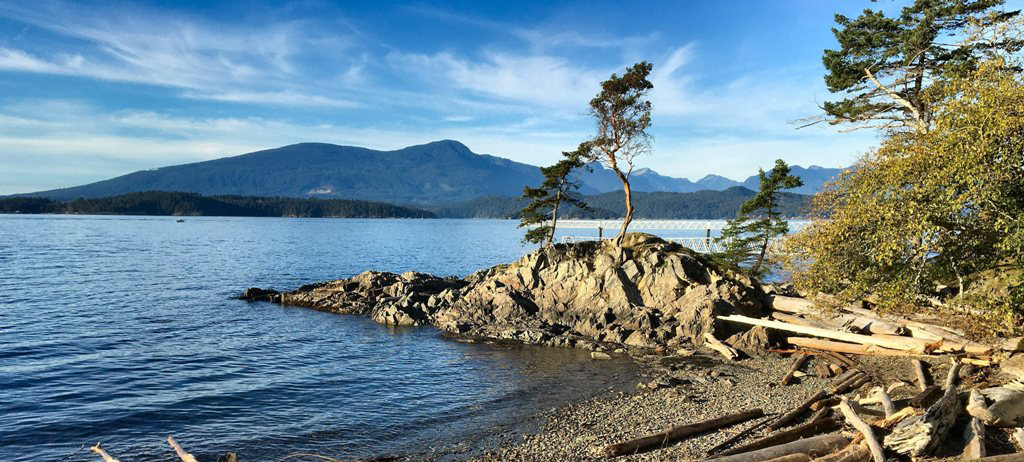 About the project
Metro Vancouver is beginning the planning process to preserve a piece of forested and waterfront property at Cape Roger Curtis on Bowen Island as a regional park. The park would preserve a large area of ecologically important and sensitive dry coastal bluff ecosystem and provide opportunities for residents of the region and the Bowen Island community to connect with nature. A preliminary program for the proposed 97-hectare park consists of day-use and overnight uses with opportunities for tent camping, picnic areas, trails, viewpoints, and waterfront access.
Metro Vancouver has purchased the land from a private developer, and has submitted a rezoning and Official Community Plan (OCP) amendment application to Bowen Island Municipality.
The land use is currently rural residential with a minimum lot size of 4.0 hectares. The rezoning and OCP amendment proposes a park, with a variance to allow for supervised tent camping. Input from Bowen Island residents will inform the Bowen Island Municipality rezoning and OCP amendment process.
Metro Vancouver Public Engagement
Metro Vancouver conducted the first phase of a public engagement process in March 20, 2023.
Metro Vancouver's Phase 2 public engagement closed August 16, 2023.
For latest project updates and engagement opportunities please visit Metro Vancouver project webpage.
Additional Technical Reports received from Metro Vancouver
Draft Concept Plan and Program – June 2023
Transportation Impact Assessment – June 2023
Emergency Management Overview Emergency Response – June 2023
Technical Water Study Analysis Results – June 2023
Visitor User Management Plan – May 2023
Bunt and Associates Trip Generation Review – March 2023
Implementation, Visitation, Operations and Access Report – Summary of Approaches – March 2023
Implementation, Visitation, Operations and Access Report – Addendum 1 Phasing Update- March 2023
Ecological Background – March 2023
Contact Mayor and Council about the proposed rezoning and OCP amendment
Write to Mayor and Council: comments regarding the Rezoning and OCP Amendment process can be sent to mayorandcouncil@bimbc.ca.
Next Meeting
Council takes a break in August, so there will be no Council meetings until the second week of September.
Rezoning information
Metro Vancouver has applied for Official Community Plan amendments and Rezoning applications for 24 parcels at Cape Roger Curtis.
Submission for OCP Amendment and Rezoning of 24 parcels at Cape Roger Curtis
Completed OCP Amendment Application Form
Completed Rezoning Application Form
Schedules A and B
Appendix A Project Overview for OCP Amendment and Rezoning
Appendix B DHC Environmental Overview
Appendix C Maps & Drawings
Appendix E Easements, Covenants and SRWs (very large file 608 pages)
Rezoning process timeline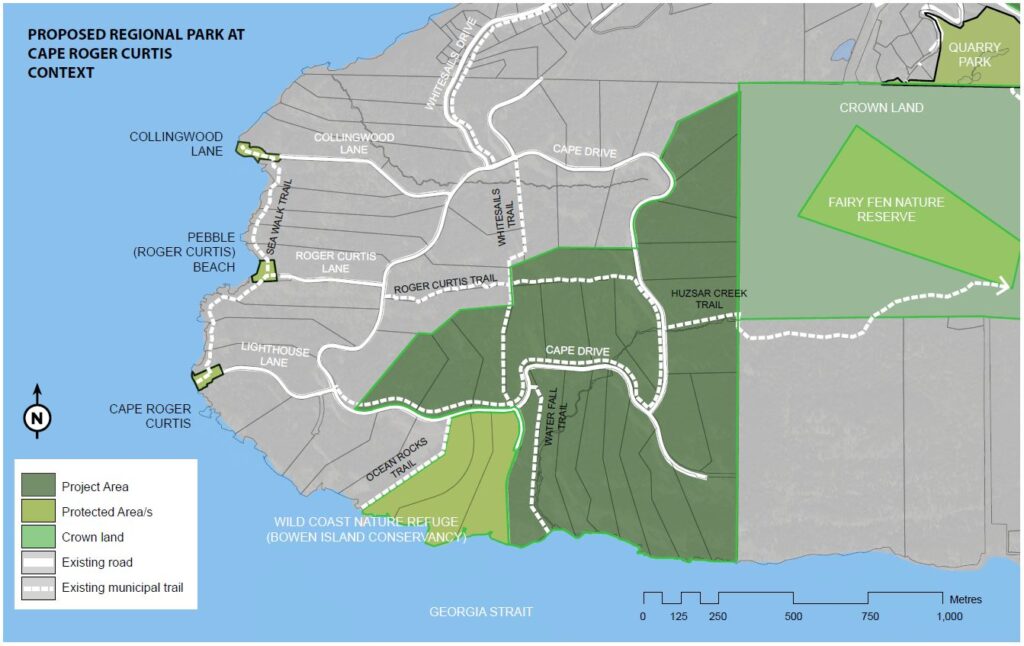 Metro Vancouver / Bowen Island Municipality time line and process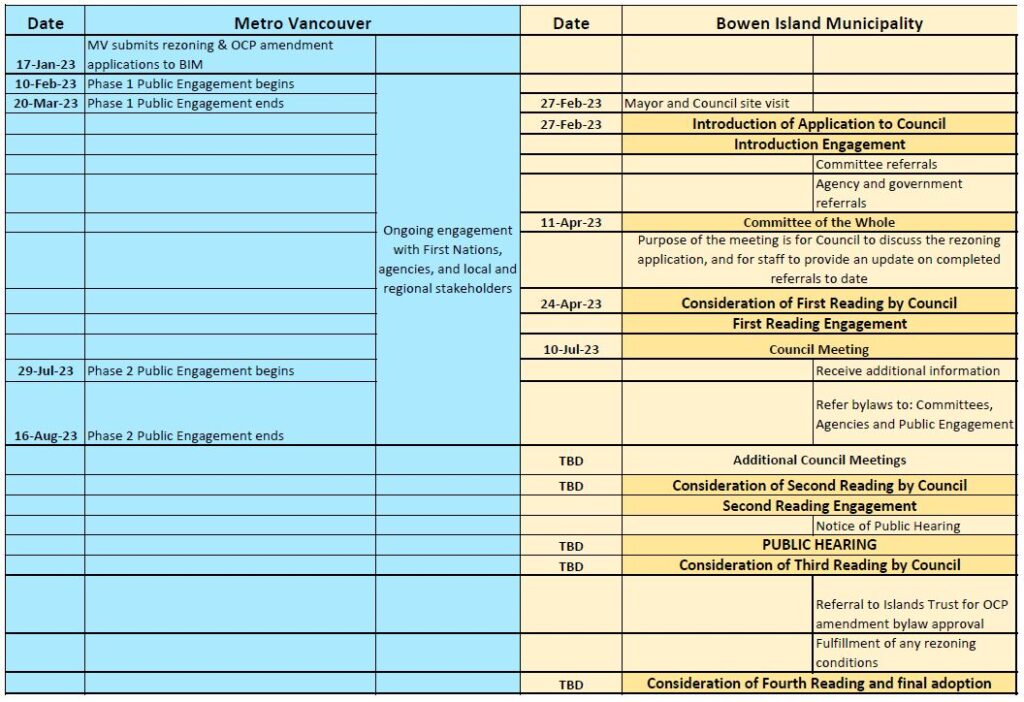 Project Updates
Metro Vancouver Phase Two Engagement Summary
September 07, 2023 Wildfire Preparedness and Response – Crippen Regional Park and Proposed Regional Park
July 19, 2023 Metro Vancouver advance notification of phase 2 engagement and project updates
July 10, 2023 Regular Council Meeting
Watch the Video
Read the Agenda
Council Highlights
230719 Staff Report
June 14, 2023 Committee of the Whole
Watch the Video
Read the Agenda
Council Highlights
May 16, 2023 Metro Vancouver e-newsletter: Purchase completion
April 24, 2023 – BIM Council gave first reading to OCP Amendment Bylaw No. 608, 2023 and Land Use Amendment Bylaw No. 609, 2023
April 21, 2023 BIM News Release – Metro Vancouver proceeding with purchase of CRC properties
April 14, 2023 Metro Vancouver Public Engagement Summary Report
April 12, 2023 Letter to MVRD Board re CRC Collaboration
April 11, 2023 Committee of the Whole meeting CRC Referral
Watch the Video
Read the Agenda
230411 COW staff presentation
March 21, 2023 – Update: Council makes proactive disclosure of correspondence about Cape Roger Curtis
March 7, 2023 – Correction to excerpts released from Closed meetings posted
February 27, 2023 Committee of the Whole meeting with Metro Vancouver Regional Parks
Watch the Video
Read the Agenda
230216 RZ 2023 0018 Initial Notice
230209 Metro Vancouver – Public Engagement begins February 10 for proposed regional park on Bowen Island
230224 Media Release – Metro Vancouver adopts New Regional Growth Strategy, Metro 2050 to Shape the Future of the Region
December 6, 20233 Metro Vancouver Email Newsletter: Metro Vancouver Continues Work with Bowen Island Municipality on Transparent Engagement Process for Proposed Park on Bowen Island
221205 BIM Council makes public information about proposed Cape Roger Curtis park from Closed Council meetings
September 28, 2022 Metro Vancouver Email Newsletter: Public Engagement Timeline – Proposed Regional Park at Cape Roger Curtis
Metro Vancouver Proposal for New Regional Park on Bowen Island Includes Camping Opportunities (Media Release, August 10, 2022)
The Metro Vancouver Board approved the initiation of rezoning process for a new regional park at Cape Roger Curtis, Bowen Island Municipality on Jul 29, 2022 (Official Public Reference)
The Metro Vancouver Board approved the inclusion of the Cape Roger Curtis property in its land acquisition catalogue on April 29, 2022 (Official Public Reference)
Frequently Asked Questions
If we've missed an important issue, please let us know by emailing mayorandcouncil@bimbc.ca
1. Can the park be stopped?
A park can be created on any residential property. The zoning of the property does not need to change to create a park. Once Metro Vancouver owns the property, they are free to create a regional park with day use amenities much like they have done with Crippen Park. That decision would rest with Metro Vancouver.
Updated: 23/05/10
2. Can the camping be stopped?
Overnight camping is not permitted anywhere on Bowen, including Crown land, except for Apodaca Park.
Metro Vancouver has submitted an application to rezone the area for overnight camping. Camping can be stopped if Council chooses not to go ahead with the rezoning application. This is a decision that must be supported by a fair and robust process that considers all perspectives, positive and negative. Defeat of the amendment bylaws would mean that no overnight camping is permitted.
Updated: 23/05/30
3. Why doesn't Council just say "no" to camping?
The park/camping subject is not as simple as yes or no. If we say "no" now, we've lost an opportunity to explore the issues, collect information, widen our understanding, and have broader discussions about all the issues that have been identified by committees, individuals and council, and the possibility of negotiating solutions that could enrich our island. If we say "no" now, Council will not have done their due diligence as responsible leaders in making an informed decision about the island that we all live on.
Updated: 23/05/10
4. Will we have a referendum?
A binding referendum or alternate approval process is required for certain municipal actions such as taking on new debt, and was used for the community centre and the new firehall, but is not required in a rezoning process. From time to time, community opinion polls are used to measure the amount of community support for a proposed initiative, and was used in 2011 with regards to the National Park.
Without more information regarding the proposed development of the campsite, and expected community impacts, it would be premature to ask the community for a definitive yes/no answer at this time.
Council could decide at any time during this process to canvas the community for opinion through a vote, an opinion poll, an online survey, or any other mechanism.
Read more about referendums.
Updated: 23/05/10
5. Will there be an open house?
An Open House is a specific name given to an information session held by the proponent (Metro Vancouver) of a rezoning application. The proponent has a three phase public engagement strategy of which the first phase is complete and included two separate Open House events on Bowen Island. Metro Vancouver is planning further Open House engagements.
Council could hold a Town Hall meeting if they deemed it appropriate during one of the stages of public engagement for the rezoning process. A Town Hall could involve several Councillors answering questions about the rezoning process.
The purpose of Public Hearings is to provide members of the public an opportunity to make representations to Council regarding proposed changes to zoning bylaws, or the Official Community Plan. Public Hearings can be included as part of a Regular Council agenda or a separate meeting and governed by the provisions of the Local Government Act of BC.
A Public Hearing is a mandatory stage of the rezoning process and takes place between 2nd and 3rd reading. If the rezoning process progresses beyond 2nd reading, a Public Hearing will be the next step in the process.
Updated: 23/05/10
6. Camping – why did Council give first reading to an Official Community Plan amendment bylaw and an amendment to the Land Use Bylaw to allow camping?
A first reading of a bylaw is an introduction or initial tabling.
Giving the bylaw first reading, allows Council to take additional exploratory steps, request information and assurances from the proponent (Metro Vancouver), and make referrals, such as to Islands Trust.
Updated: 23/05/10
7. What is the purpose of each reading?
First reading = tabling or introduction
Second = discussion in principle and on the content of the bylaw
Third reading = typically final discussion, including any changes made along the way. Rezoning Bylaw 608 to amend the Official Community Plan would then be sent to the Islands Trust for approval before Council could consider adopting it.
The bylaw adoption process is legislated by the province.
Updated: 23/05/10
8. What's the timeline?
Following First Reading, on April 24th, Council did not send the bylaws for public comment. Council instead requested more information on the rezoning. Staff will return to Council with a further report with more information before the bylaws are referred to for more comment. This date has not yet been determined.
In other words, we're likely a couple of months away from a second reading. Council usually takes a break in August, so we're looking at the process unfolding slowly and steadily, ensuring that Council does its due diligence carefully considering all issues.
Updated: 23/05/10
9. How will the proposed park and campground impact transportation across the island?
Transportation related issues are actively being considered and reviewed by Metro Vancouver and BIM staff.
Although a Trip Generation Review (Preliminary Memo) was submitted as part of Metro Vancouver's initial application, we have requested an updated report in addition to a Transportation Demand Management Plan and a Transportation Impact Assessment (TIA) study. There has been preliminary discussion around Metro Vancouver funded shuttle services from a location on the Northshore to Horseshoe Bay, and another from Snug Cove to CRC.
Whether Bowen commuters could use this service in the opposite direction remains an on-going conversation. There has been very preliminary discussion about the possibility of subsidizing a passenger ferry connection between Bowen Island and the mainland. The benefits of allowing Bowen residents, in particular commuters, has been passed along.
Updated: 23/05/11
10. Can you provide further information on what infrastructure is needed to support the operation of the park and camp, and who is paying for any proposed infrastructure upgrades?
There are no firm commitments yet. Those discussions are ongoing and part of the process. Below are descriptions of some of the key infrastructure pieces.
The operating costs of the park are entirely on Metro Vancouver, including full time onsite staff.
There's discussion of cost sharing the completion of the multi-use path all the way to CRC, which would be a few to several million dollars contributed by Metro Vancouver as part of the Regional Greenway Strategy.
With Metro Vancouver owns significant tracts of land in the Cove, there have been initial indications about some sort of reconfiguration, as BIM would like some of that land as well for infrastructure and housing and Metro Vancouver will need to figure staging of visitors for their various Bowen assets.
Fire suppression has been committed to with trained forest fire fighters. Metro Vancouver owns ~25% of all land in the region, 94% of that is greenspace to protect the watersheds for the drinking water of the entire region. Given the sensitivity of water supply and changing climate, fire monitoring is supported by satellite and helicopters, as I understand it, in addition to staff on the ground.
Alternate access to the Cape is being explored.
These are some of the main points on the table currently, in addition to the robust discussion that has happened across the Municipalities various committees.
We continue to have those conversations, seeking a net positive impact for the island.
Updated: 23/05/11
11. How do I sign the petition?
Despite the branding, and references by the organizers to registered voters, the informal petition organized by local residents is a private endeavour. Municipal staff are not able to offer information about or offer assistance to the public regarding signing the informal petition.
More information on petitions, petition requirements, and the role of local government on receiving an informal petition can be found on the Gov of BC website. You can always email your comment directly to Mayorandcouncil@bimbc.ca.
Updated: 23/05/10
12. How much revenue will we lose from property taxes?
Impacts to property tax revenue will be incurred starting in 2024. The change in ownership from private landholders to the Regional District means that the land becomes exempt from taxation.
The lots have a combined assessed value of $55,452,000 which represents approximately 1.5% of the total assessed value. In real dollars, this is approximately $110,000 of forgone tax revenue, or about 1.5% of the total budget. The opportunity cost of future tax revenues from homes and other structures that may have eventually been built on those lands is difficult to measure.
Council will consider the financial impact of the forgone property tax revenue against other ways that the community could benefit such as cost sharing for the Multi-Use Path. BIM's goal in the process is to negotiate a net positive impact.
Updated: 23/05/10