Bowen Islanders share a sense of community and connection to place. Bowen Island's parks, trails and beaches contribute to community pride by providing outdoor spaces for people to explore and experience their natural surroundings.
Bowen Island's interconnected parks, trails and beaches protect marine and terrestrial ecosystems, conserve biodiversity, inspire stewardship, support outdoor education and contribute to the Island's peaceful, natural character.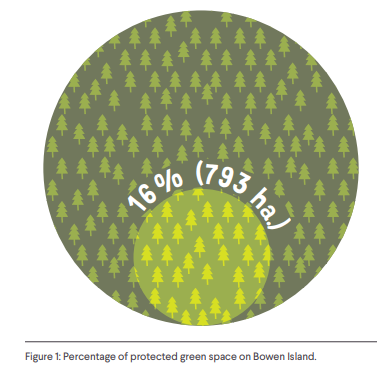 View public parks on BowMap, our new public interactive map.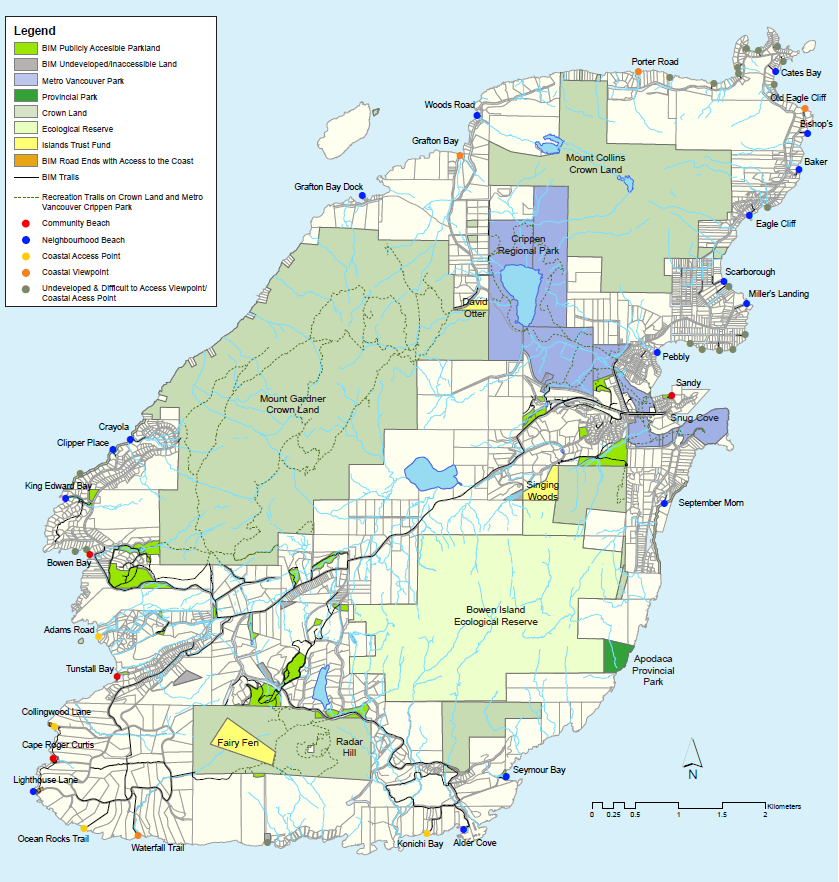 Municipal parks
Bowen Island has about 72 hectares of municipal parkland. This includes established parks as well as undeveloped natural areas.
Community Parks
Community parks serve the entire community and provide opportunities for special events and active recreation. These are generally larger parks, greater than 1 hectare in size but they may be smaller if they provide a destination amenity, such as a sports field or bike park.
Aaron Sluggett Field
Bowen Bike Park
Quarry Park
Veterans Park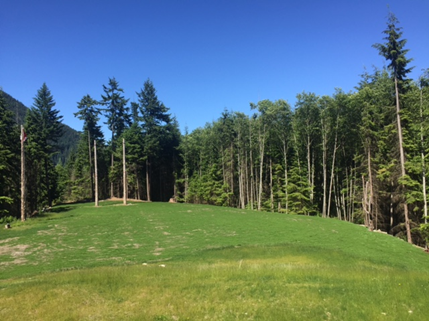 Neighbourhood Parks
Neighbourhood parks provide opportunities for active recreation as well as informal open spaces. These small parks include pocket parks, playscapes and informal lawn areas and can vary in size from 0.1 – 1.0 hectares.
Buchanan Park
Cates Hill Neighbourhood Park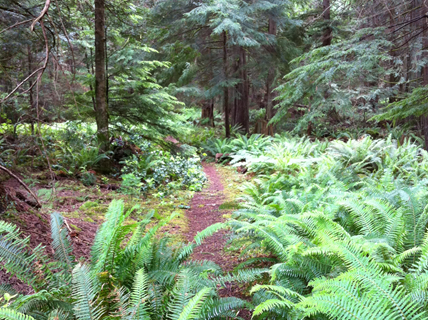 Waterfront Parks
Waterfront parks are located at the waterfront and provide opportunities to experience the marine environment. These parks may include accessible beaches with amenities or they may provide views of the ocean where accessibility to the shoreline is not possible.
King Edward Bay Park
Sandy Beach
Seymour Bay Park
Tunstall Bay Park
Nature Parks
Nature Parks are green spaces that provide opportunities for passive recreation such as walking or wildlife watching. These parks allow people to connect to nature in the form of forests, stream corridors and other environmentally significant features. There are generally few opportunities for development of built park amenities, with the exception of trails, seating areas and viewing points.
Carter Park
Cates Hill Nature Park
Davies Park
Evergreen Park
Headwaters Park
Hunter Park
Malkin Creek Park
Mike's Lorg
Terminal Creek Park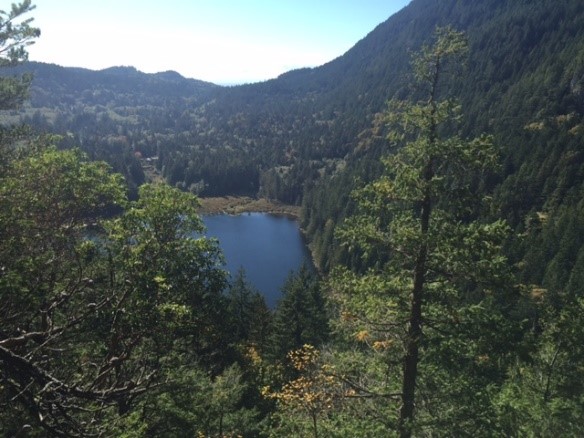 Undeveloped Park Areas
These areas include features that are not suitable for park development such as ravines, wetlands or steep slopes. These areas may provide ecological attributes and functions and act as visual amenities. Undeveloped park areas have limited (if any) access for the public, except for allowing access to key viewpoints.
Dogs in municipal parks
Dogs are currently allowed off-leash in all municipal parks but must be kept under control by owners. Please make sure to clean up after your dog so that everyone can enjoy our parks.
Other parks
In addition to municipal parkland, there are parks and open spaces owned and managed by others:
Playgrounds and Playscapes
Even though Bowen Island has many places for nature-based play, playscapes provide important places for children to be active and play together. The playground at Bowen Island Community School in the Snug Cove neighbourhood serves the community's need for a playground with a range of equipment for children of different ages.
The West Side Children's Playground in King Edward Bay includes natural play features that encourage children to interact with nature and each other, and there is a swing set in Buchanan Park.