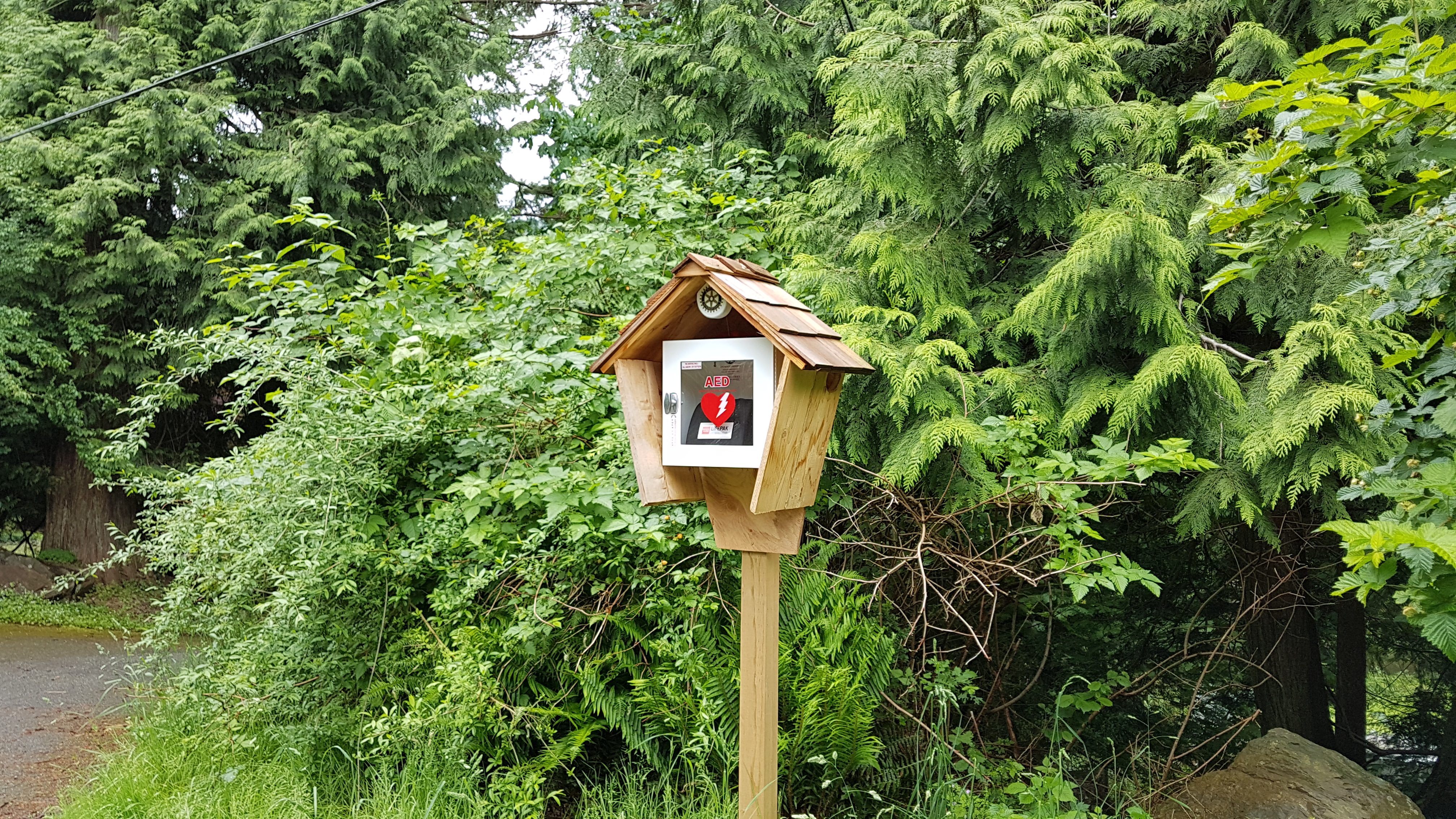 Did you know there are over 25 publicly available AEDs on Bowen Island?
An AED (Automated External Defibrillator) is a small, lightweight, and portable electronic device that delivers an electric shock through the chest wall of a person whose heart has stopped beating. It is proven to be one of the most important tools in saving the life of someone suffering sudden cardiac arrest.
AEDs are designed to be easy for anyone to use.
AED devices should be kept in their housing so that they're always accessible are ready for use. They do not need to be removed for safe keeping during weather events.
Community AED locations
Hood Point (Finisterre Road)
Hood Point West (Porter and Smugglers Cove)
Miller's Landing (Ecclestone and Miller)
Miller's Landing (Upper Oceanview)
Deep Bay (Melmore and Lenora)
Bowen Island Public Library (Bowen Trunk Rd)
Snug Cove General Store (Bowen Trunk Rd)
Cates Pharmacy (Village Square)
Municipal Hall (Artisan Lane)
The GYM (Artisan Square)
Bowen Teen Centre/ Bowen Children's Centre (Carter Road)
Knick Knack Nook/ BIRD (Mt. Gardner Road)
Bowen Bay (Arbutus Place)
King Edward Bay
King Edward Bay Strata
Bluewater (Captain's Way Road)
Bluewater (Spyglass Road)
Rivendell (Rivendell Drive)
Royal Canadian Legion #150 (Scarborough Rd)
Bowen Island Golf Course (Seymour Bay)
Tunstall Bay Clubhouse (Tunstall Blvd)
Hummingbird Lane
Bowen Island Recreation Office (Bowen Island Community School)
Valhalla Place
Sandy Beach
Alder Cove
The Rotary Club of Bowen Island has worked to ensure that AEDs are accessible to the public across the island. View the latest version of Bowen's AED Map.
More resources