Bowen Island Municipality has a Licence of Occupation for Mannion Bay, which will help us restore environmental and community well-being to the area.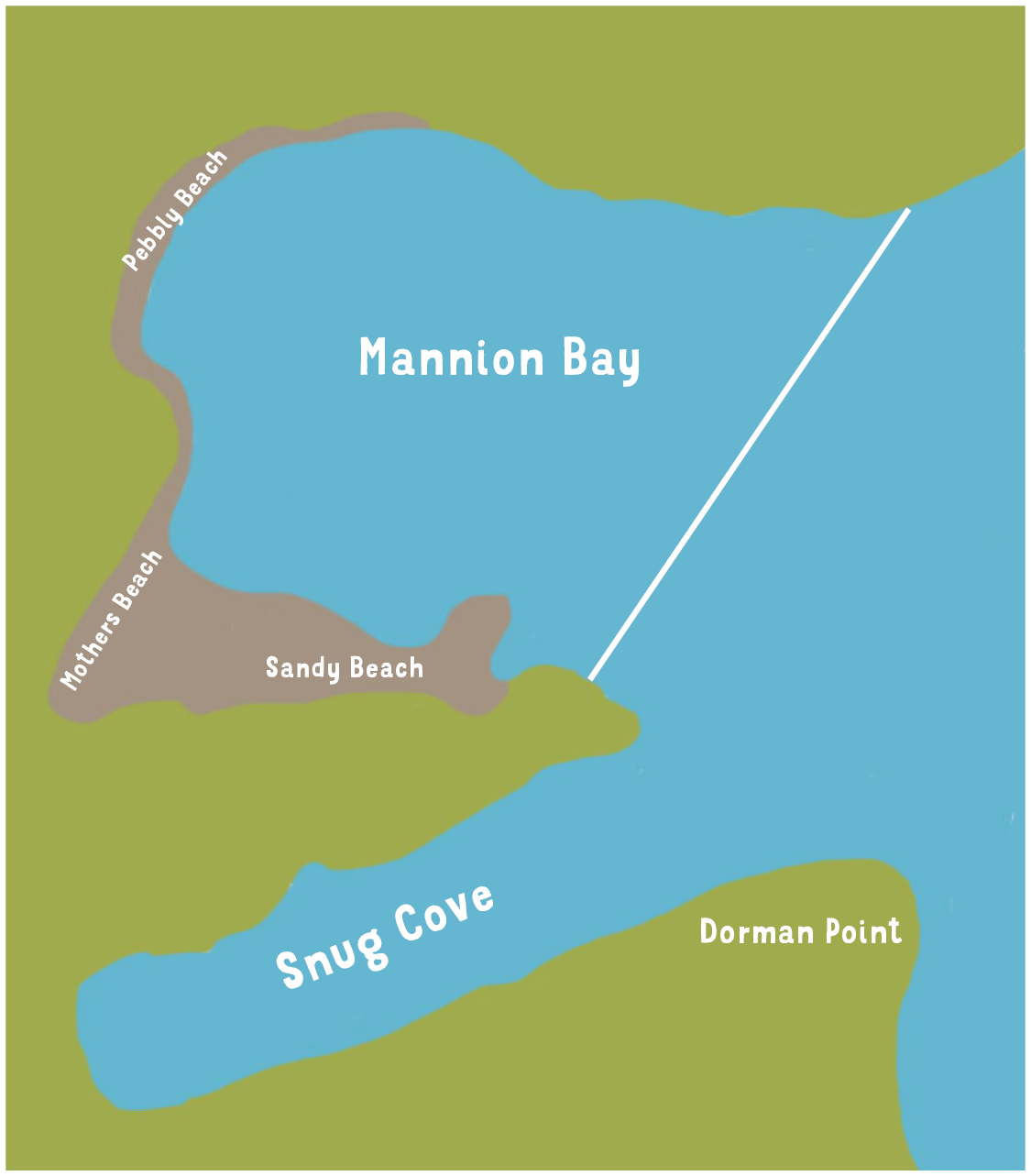 If you own a boat in Mannion Bay, you are required to provide to Bowen Island Municipality:
Your name and proof of ownership
The name of your boat and license information
Your contact information (on Bowen Island, please)
Proof that you have third party liability insurance
Download the Registration Form
Violations that risk public safety and/or the loss of enjoyment of the beaches and waters of Mannion Bay will be subject to enforcement and fines.
If you have a mooring buoy in Mannion Bay, you are required to:
Pay an annual fee of $240 to Bowen Island Municipality in one installment by the first day of the calendar year
Ensure your vessel is safe, seaworthy and in compliance with the Licence of Occupation
Ensure the use of your vessel complies with the Use of Beaches and Water Areas Bylaw No. 418, 2016, including the restrictions related to live-aboards and floating storage units
Campfires around Mannion Bay are prohibited year-round
The Use of Public Beaches and Water Areas Bylaw prohibits fires of any kind year round on the beaches around Mannion Bay, specifically Sandy Beach.
Have you seen the Mannion Bay marking buoys?
The buoys installed in Mannion Bay outline a voluntary No Anchor Zone to protect eelgrass. Eelgrass meadows provide vital habitat to hundreds of marine creatures including wild Pacific salmon – but they are easily damaged by anchors and chains. You can help protect these ecosystems by spreading the word about this initiative and anchoring in deeper waters.
The project was the collaborative effort of Bowen Island Municipality and SeaChange Marine Conservation Society. It was modeled after successful initiatives in Washington State but the first of its kind on the Canadian side of the Salish Sea! Already, the initiative is gaining traction, with similar projects planned in Gibsons and Cowichan Estuary.
For more information download the Mannion Bay Marker Buoys Fact Sheet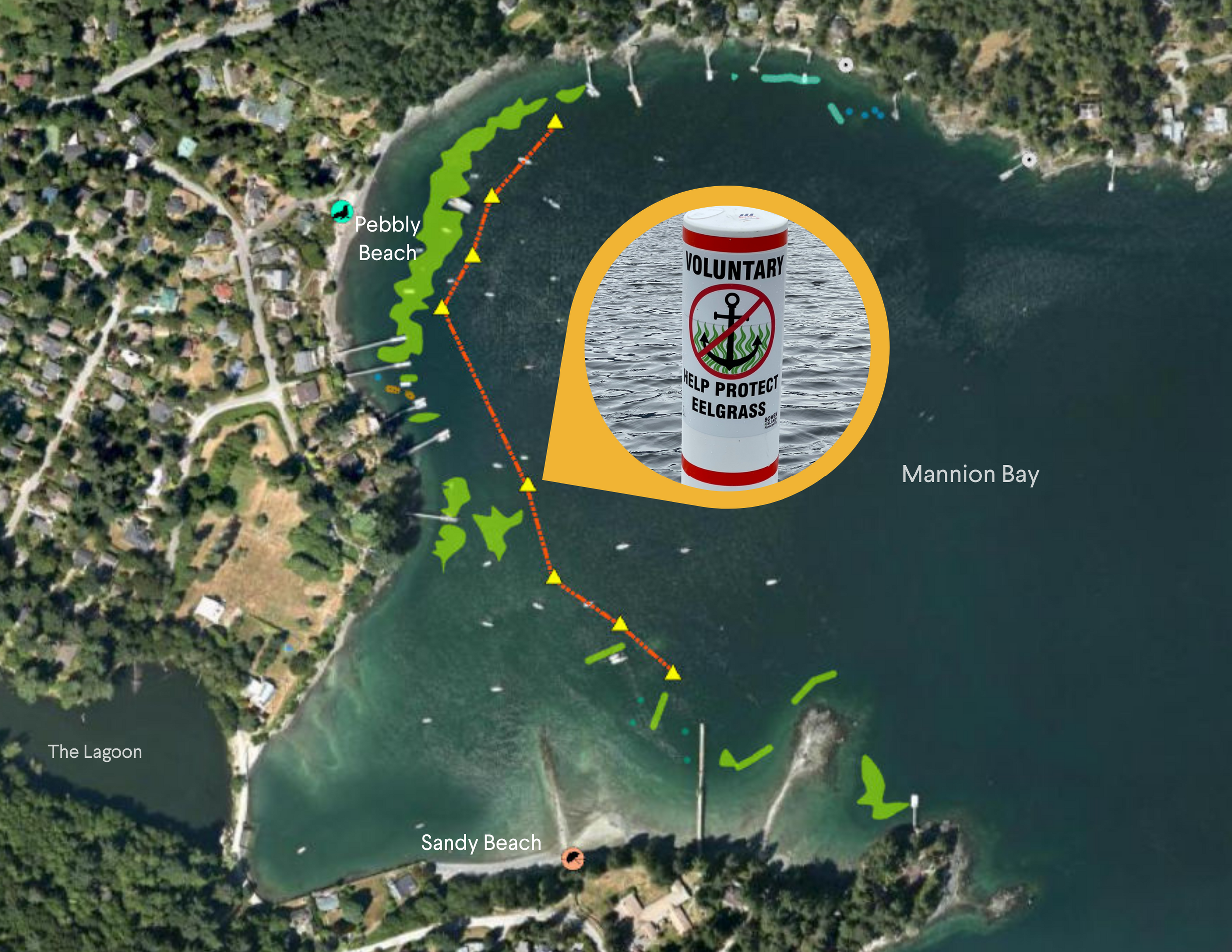 Eelgrass inventory completed in 2014 helped determine buoy placement. Protect eelgrass in any bay by anchoring outside of eelgrass depth (7m/23ft chart datum in the Salish Sea).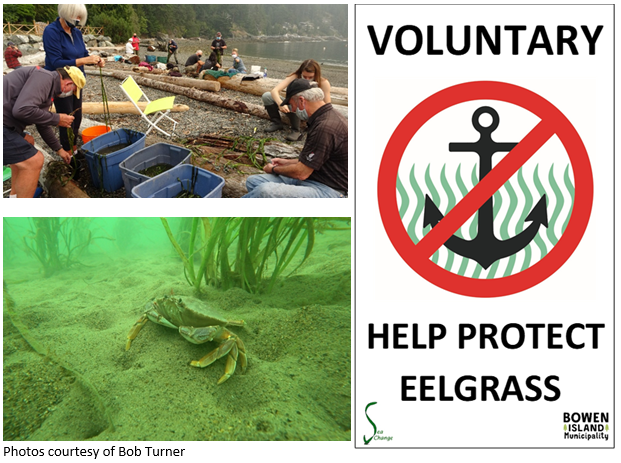 SeaChange Marine Conservation Society's nearshore habitat restoration was the inspiration for the project. With the help of Bowen volunteers, they planted eelgrass shoots in Mannion Bay in summer of 2020 to restore these important salmon-rearing areas.
The eelgrass shoots have already shown over 100% growth, let's keep the eelgrass in by keeping anchors out!
Resources