Update to Snug Cove Design Guidelines
SEEKING PUBLIC INPUT
We invite you to our engagement session on Jan 20, 2020 to share your thoughts on guidelines for new development in Snug Cove.
DETAILS:
We will hold drop-in hours from noon until 4pm, and then a structured engagement presentation and discussion from 4-6pm on Monday, Jan 20 at the Library Annex.
WHAT DO THE SNUG COVE DESIGN GUIDELINES DO?
These guidelines will guide development in the Snug Cove area (see map), particularly in regards to its character and public function.
WHAT'S INCLUDED IN THE ENGAGEMENT SESSION?
This engagement session is early on in the update process so it is a great time to have your voice heard. At this engagement session, you can:
Review and comment on the overarching directives of the update.
Provide your comments on the Guidelines by topic.
Discuss the permitting and review process.
Learn about the Guidelines history, update work plan and current regulatory context.
WHO DOES THIS IMPACT?
The Snug Cove Design Guidelines document applies to the Development Permit Areas shown in pink in the map below. Any new development within these areas may potentially need to demonstrate compliance with the proposed Guidelines and obtain a development permit.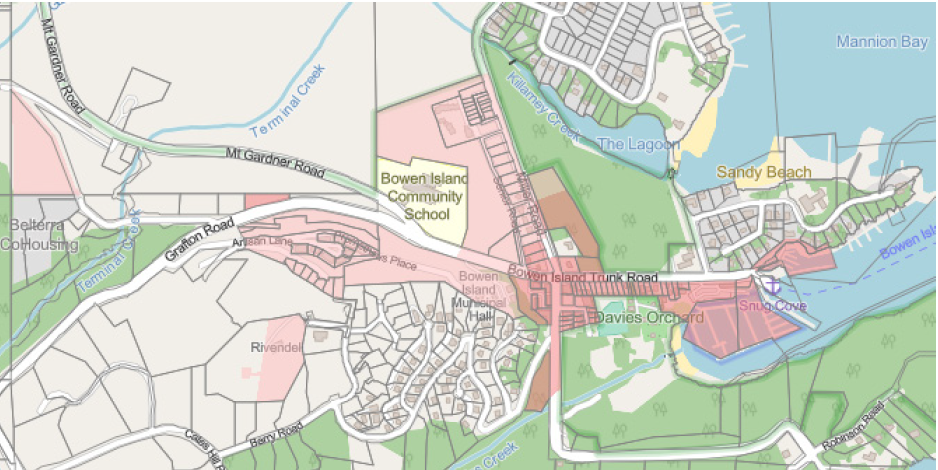 WHAT WILL BE IN THE GUIDELINES?
The updated Guidelines will affirm the Arts & Crafts nature of the Snug Cove area, but the topics to be covered are yet to be determined.
Questions? Please contact Jennifer Rae Pierce, Planner 1, at 604-947-4255 or jpierce@bimbc.ca
Resources
SCDG engagement posters Jan 2020
Snug Cove Development Permit Area Map
Land Use Bylaw No. 57, 2002 (Consolidated May 2019)