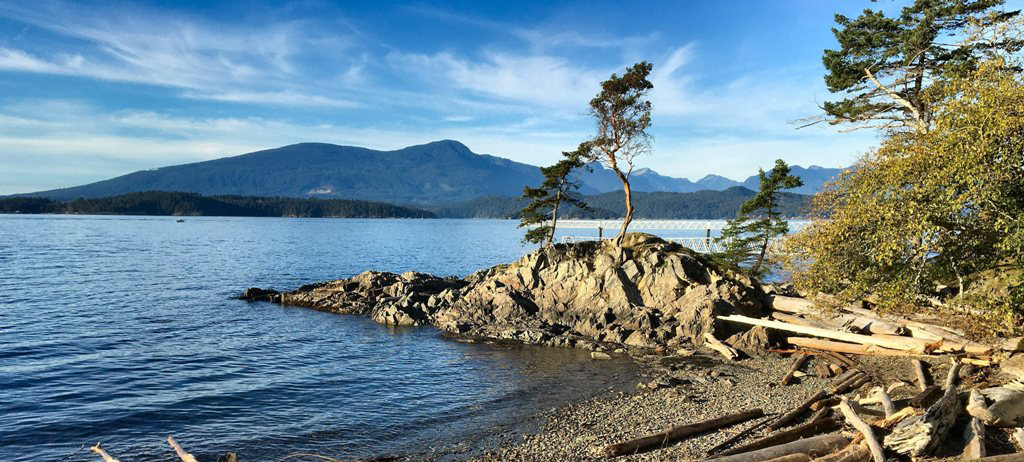 Metro Vancouver is beginning the planning process to preserve a piece of forested and waterfront property at Cape Roger Curtis on Bowen Island as a regional park. The park would preserve a large area of ecologically important and sensitive dry coastal bluff ecosystem and provide opportunities for residents of the region and the Bowen Island community to connect with nature. A preliminary program for the proposed 97-hectare park consists of day-use and overnight uses with opportunities for tent camping, picnic areas, trails, viewpoints, and waterfront access.
Metro Vancouver has an agreement to purchase the land from a private developer, and has submitted a rezoning and Official Community Plan (OCP) amendment application to Bowen Island Municipality.
The land use is currently rural residential with a minimum lot size of 4.0 hectares. The rezoning and OCP amendment proposes a park, with a variance to allow for supervised tent camping. Input from Bowen Island residents will inform the Bowen Island Municipality rezoning and OCP amendment process.
How to get involved in the park planning process with Metro Vancouver
Metro Vancouver is conducting the first phase of a public engagement process until March 20, 2023. Please visit the the project webpage for more information.
How to have your say on the proposed rezoning and OCP amendment
Write to Mayor and Council: comments regarding the Rezoning and OCP Amendment process can be sent to mayorandcouncil@bimbc.ca.
Next Meeting Information
Committee of the Whole
Tuesday, April 11, 2023 at 9:30 am
The purpose of the meeting is to discuss the rezoning application, and for staff to provide an update on completed referrals to date.
Join Zoom Meeting
Meeting ID: 823 4891 0080
Passcode: 645818
Rezoning process timeline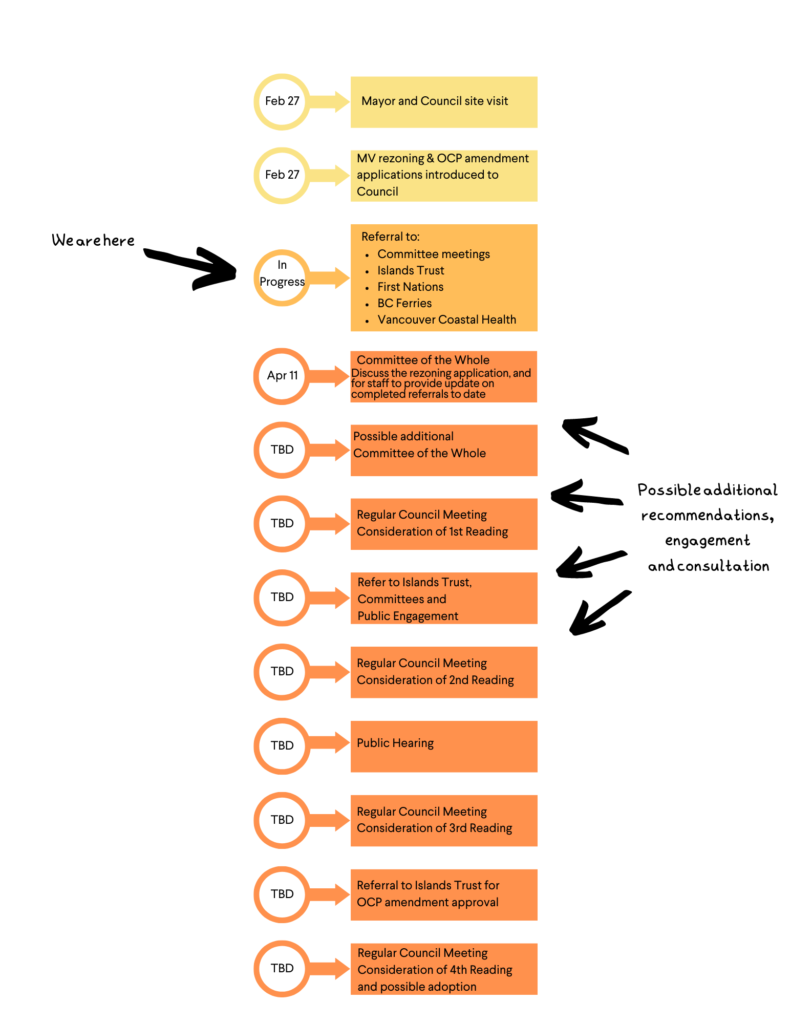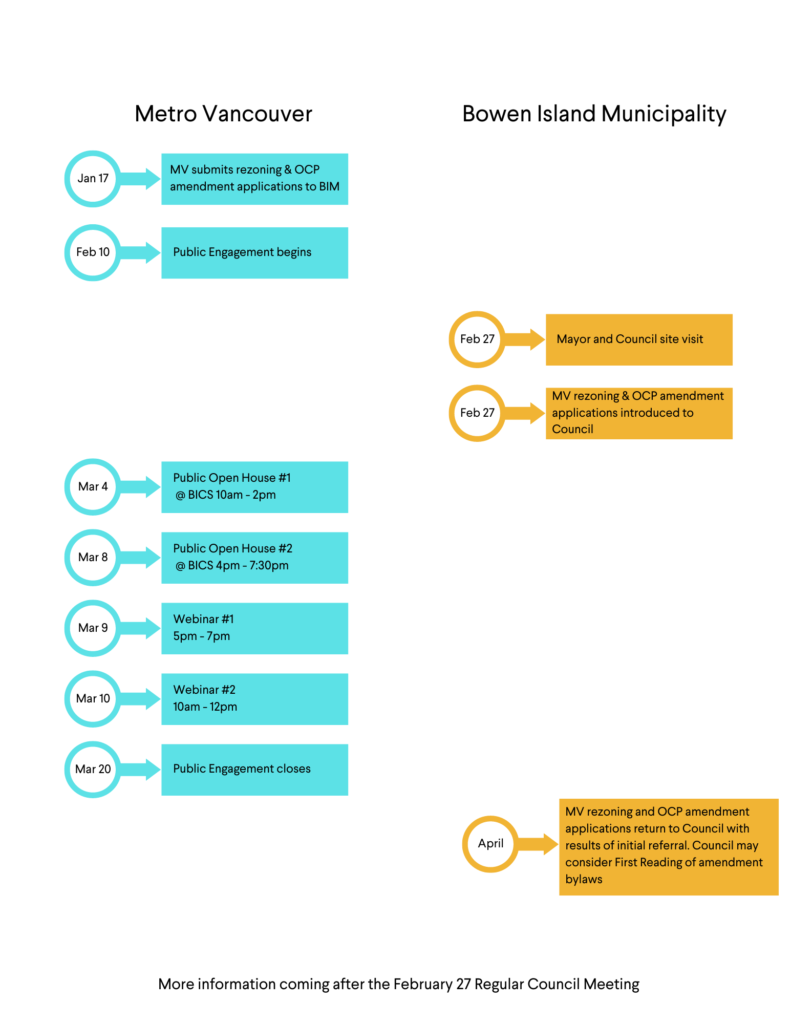 Rezoning information
Metro Vancouver has applied for Official Community Plan amendments and Rezoning applications for 24 parcels at Cape Roger Curtis. The applications will be introduced to Council at the Council Meeting on February 27, 2023.
Submission for OCP Amendment and Rezoning of 24 parcels at Cape Roger Curtis
Completed OCP Amendment Application Form
Completed Rezoning Application Form
Schedules A and B
Appendix A Project Overview for OCP Amendment and Rezoning
Appendix B DHC Environmental Overview
Appendix C Maps & Drawings
Appendix E Easements, Covenants and SRWs (very large file 608 pages)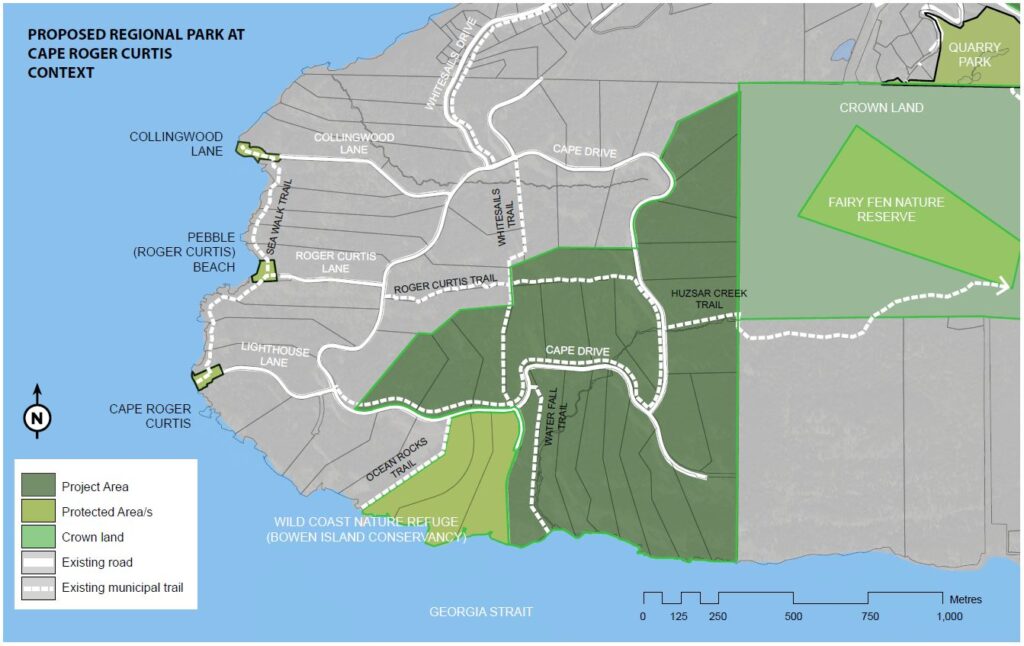 Project Updates
March 21, 2023 – Update: Council makes proactive disclosure of correspondence about Cape Roger Curtis
March 7, 2023 – Correction to excerpts released from Closed meetings posted
February 27, 2023 Committee of the Whole meeting with Metro Vancouver Regional Parks
230209 Metro Vancouver – Public Engagement begins February 10 for proposed regional park on Bowen Island
Metro Vancouver Email Newsletter December 6, 2022 : Metro Vancouver Continues Work with Bowen Island Municipality on Transparent Engagement Process for Proposed Park on Bowen Island
221205 BIM Council makes public information about proposed Cape Roger Curtis park from Closed Council meetings
Metro Vancouver Email Newsletter September 28, 2022: Public Engagement Timeline – Proposed Regional Park at Cape Roger Curtis
Metro Vancouver Proposal for New Regional Park on Bowen Island Includes Camping Opportunities (Media Release, August 10, 2022)
The Metro Vancouver Board approved the initiation of rezoning process for a new regional park at Cape Roger Curtis, Bowen Island Municipality on Jul 29, 2022 (Official Public Reference)
The Metro Vancouver Board approved the inclusion of the Cape Roger Curtis property in its land acquisition catalogue on April 29, 2022 (Official Public Reference)