Seeking Public Comment
for DVP-03-2019 (1477 Cleator Road)
A Development Variance Permit application has been submitted for 1477 Cleator Road (shown on map) to reduce the front lot line setback from 7.5 metres to 3.9 metres in order to convert the main floor guest bedroom into the master bedroom and allow the applicants to "age-in-place". The master bedroom is currently on the second storey. The guest bedroom is proposed to be extended by 2.4 metres to accommodate furniture and storage.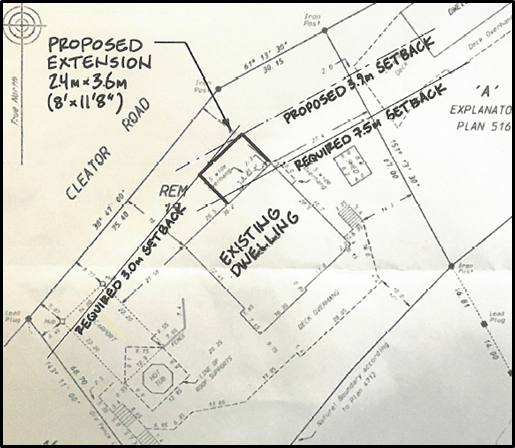 The application may be viewed at Municipal Hall between 8:30 AM and 4:30 PM, Monday through Friday (excluding statutory holidays) or under Background Information, below.

Written submissions may be delivered to Municipal Hall (contact information below):
In person
By mail to 981 Artisan Lane, Bowen Island, BC, V0N1G2
By fax to 604-947-0193
By email to bim@bimbc.ca
Submissions may also be made in person before Mayor and Council at the meeting:
6: 15 PM on Monday, June 24, 2019
in Council Chambers, Municipal Hall
To ensure a fair process, written submissions cannot be accepted after the meeting has begun.
Questions?
Please contact Emma Chow, Island Community Planner at 604-947-4255 or echow@bimbc.ca.
Background Information
Staff Report dated May 16, 2019
PowerPoint Presentation dated May 27, 2019