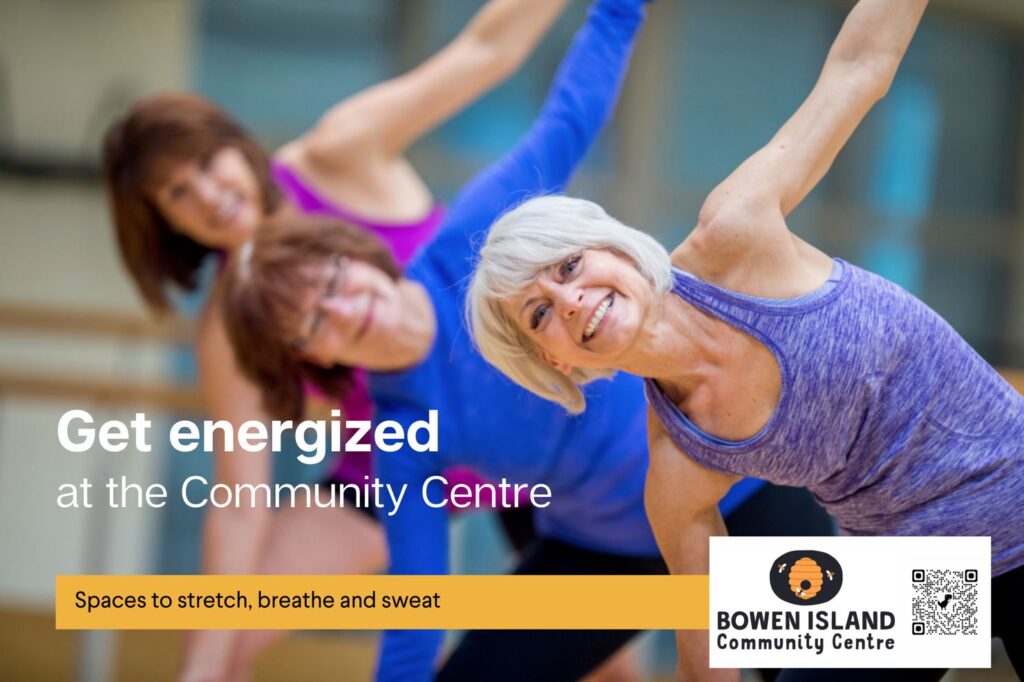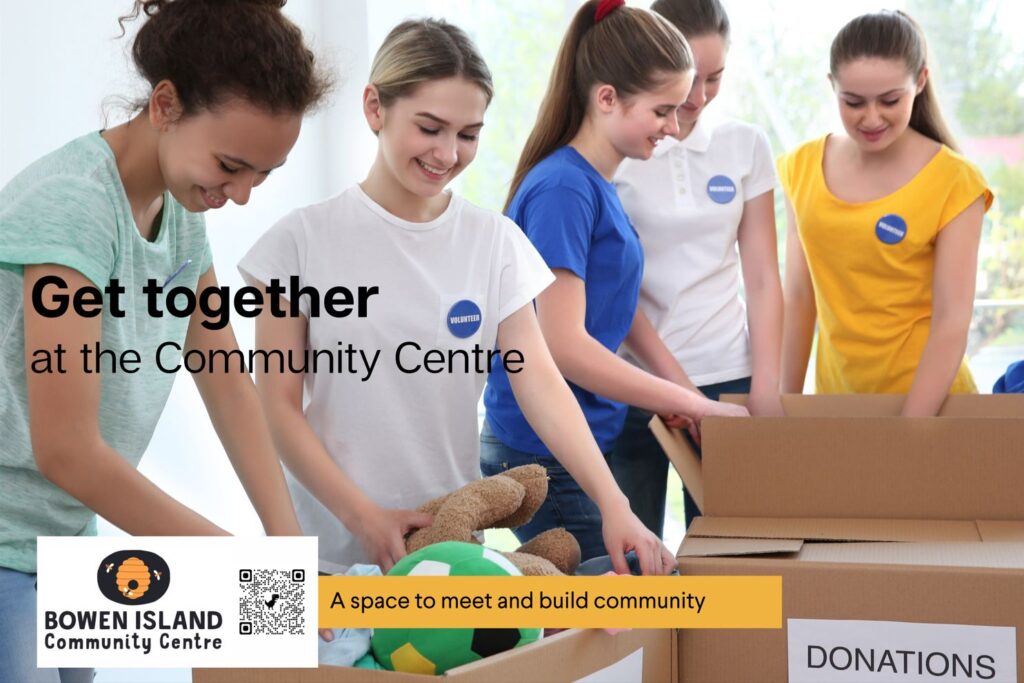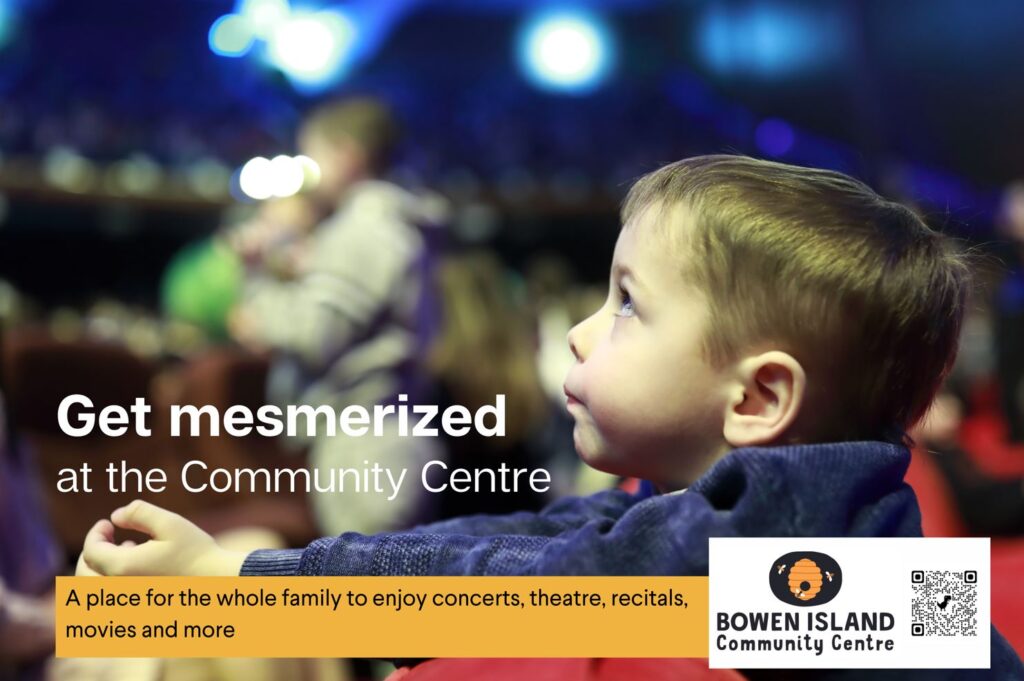 Contents
The project at a glance
About 12,690 sq. ft. multi-use community spaces about 75% of the total space
About 4,220 sq. ft. municipal offices about 25% of the total space
Project cost: $18.7 million
Project savings realized by co-location: $2 million
Community fundraising goal: $3.29 million
Community fundraising to date: $1.29 million
Amenities: indoor and outdoor recreation/fitness, children's care and programming, performing arts and creative space, spaces for meetings, classes, social functions and more!
Project completion: 2023
Read more about the history of the project at Our Island Place.
Community Centre Firsts!
Watch/listen on YouTube.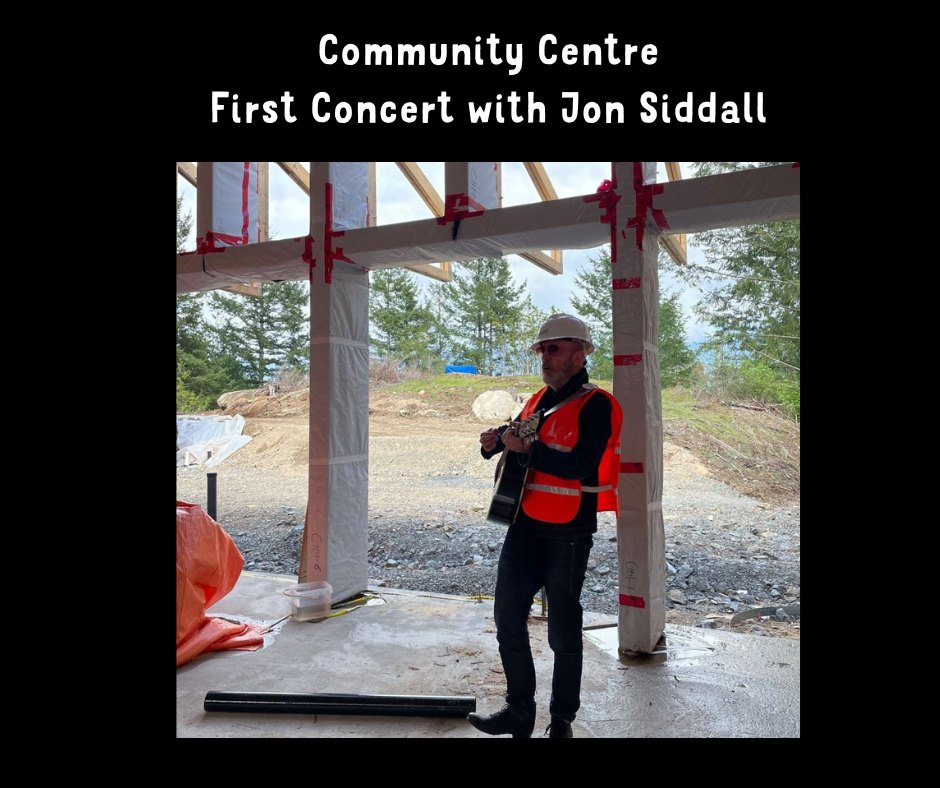 First play with our local thespians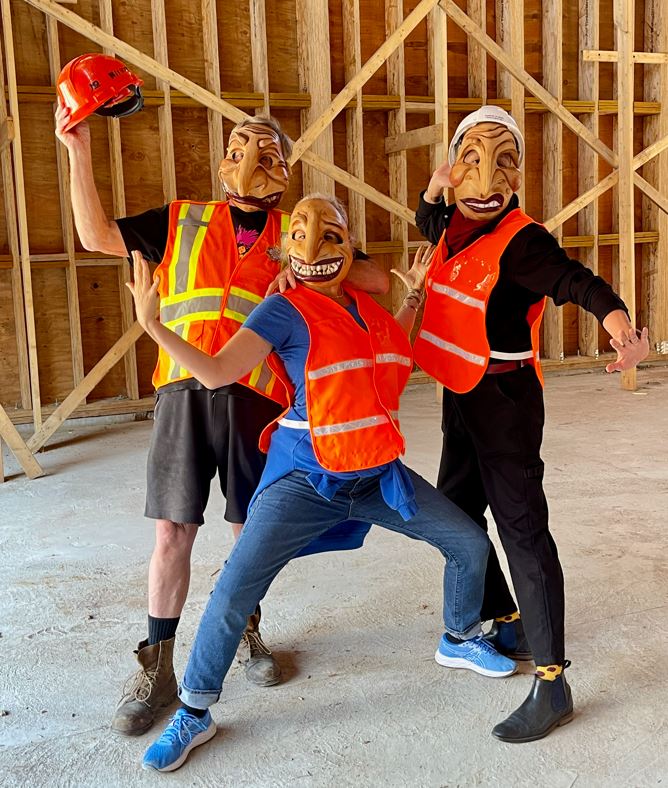 Update March 2023
In the last few weeks there has been significant progress on the structure that will house the living room and the small multi-purpose room. It's exciting to compare the bones of the structure and imagine how the space will be used. Our island's dream of building a central community space is coming true before our eyes. For example, see the two pictures below showing on-site construction and what we'll end up with.
In the photo below, you're on site, standing just inside the back door, looking south. You can see the corridor on the right leading to the front door at the far end. The trusses are for the small multi-purpose Room, followed by the living room.
In the artist's rendition on the right, you're standing in the living room looking north, with the corridor on the left leading to the back door.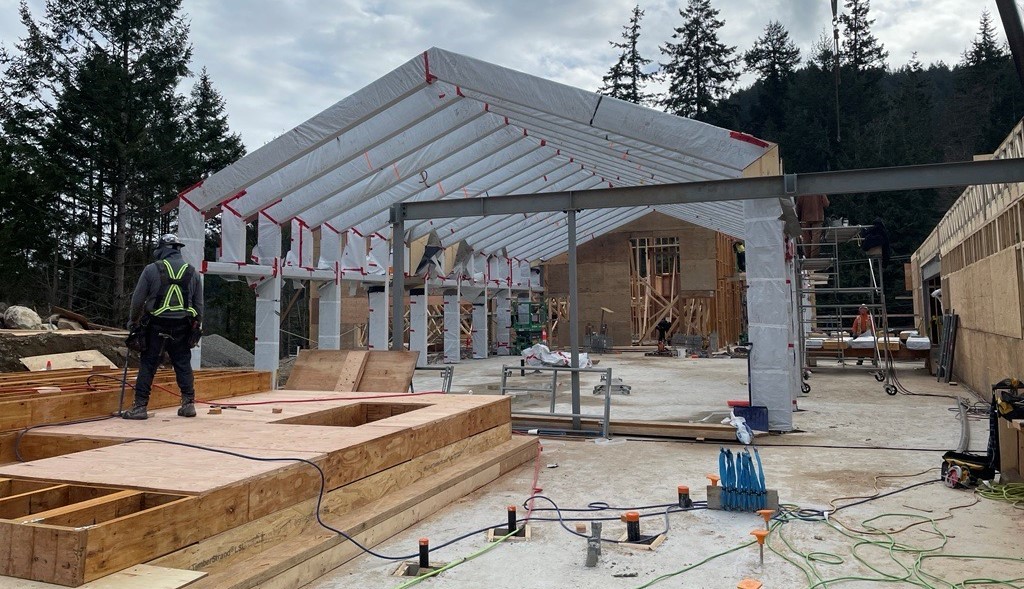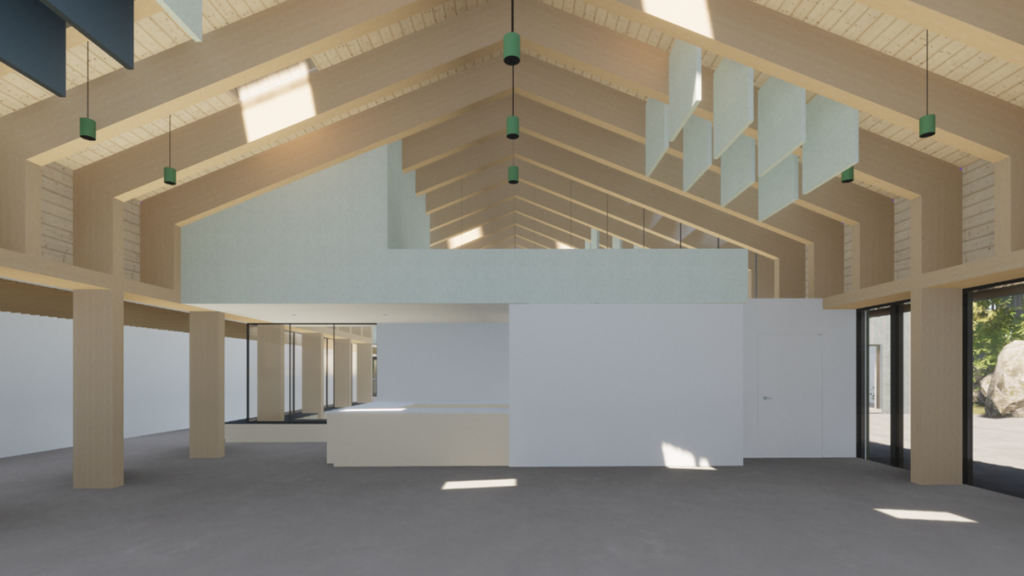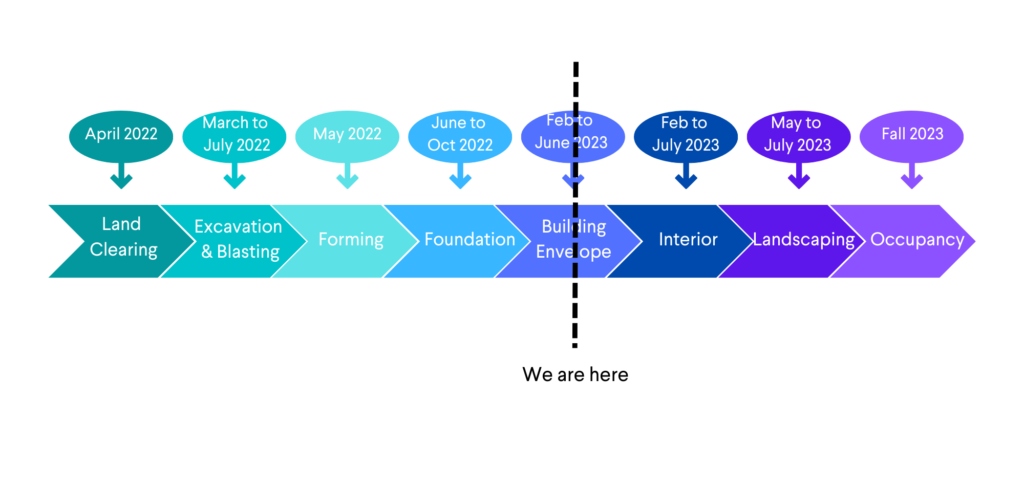 FAQs
Can my organization rent space for programming?
Yes. The multipurpose rooms and meeting rooms will be available for organizations to rent at times they are not otherwise programmed by regular user groups.
Will there be a commercial kitchen?
No. The costs of building a commercial kitchen are beyond the projected budget for this project. There will be a small community kitchenette available for user groups.
Will there be a building attendant outside Municipal Hall operating hours?
A full-time facility coordinator will be the building attendant, and custodial services will allow access to user groups. Hours of the facility coordinator will depend on types of events and programming booked. Programming staff will work to ensure that programming/booking conflicts are minimized. However, after regular hours, user groups will have a contact number to call in case problems arise.
Help us get to the finish line!
With all the progress made to date, we are thrilled that it's no longer years before we open the doors to the Bowen Island Community Centre, it's a matter of months! Soon, having to line-up to catch the ferry over to the mainland for special events, activities and world-class performances will be purely optional. Islanders and their guests will be able to enjoy, participate and experience first-rate activities in the comfort of a purpose-built facility located in their very own island home.
We are so grateful for the generous support of funding agencies and donors who are helping to raise the $18.7 M capital needed for this project.
The good news? There's still time to join those who are helping build this community legacy. All donations of $25+ will receive a tax receipt and donors who provide gifts valued at $200 or more will be acknowledged on a donor recognition display featured in the community centre Gallery Lounge.
There are many ways to play a part in helping our community dream come true.
We invite you to Take a Seat in the Performing Arts Auditorium
Sponsor a seat for $2,500!
The gift includes an engraved nameplate that can include your name, or dedication to someone else.
To make this and other cash donations: donate here.
Opportunities for naming rights, annual and legacy giving are also available. For more information, please contact: ourislandplace@bimbc.ca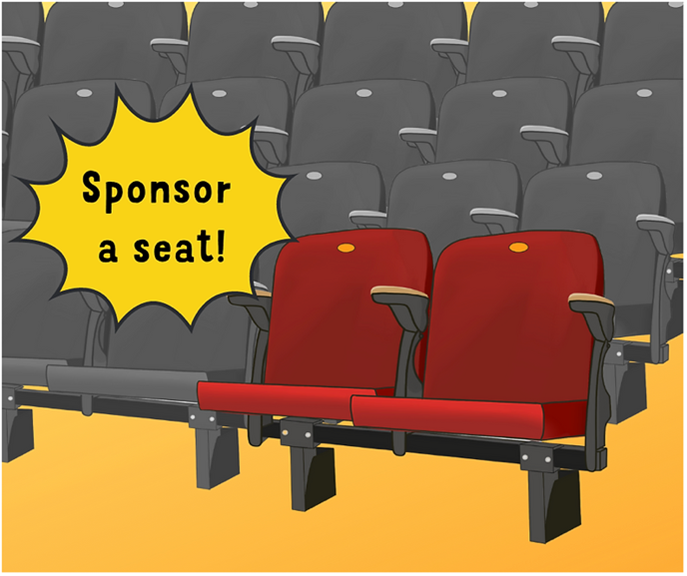 Update February 2023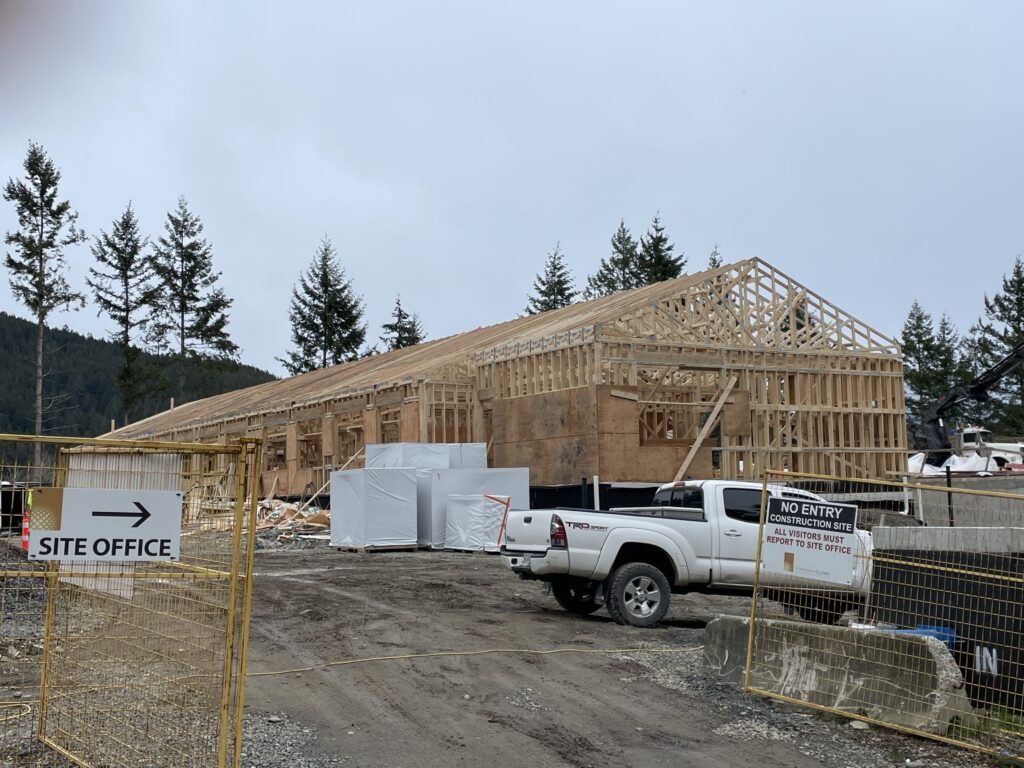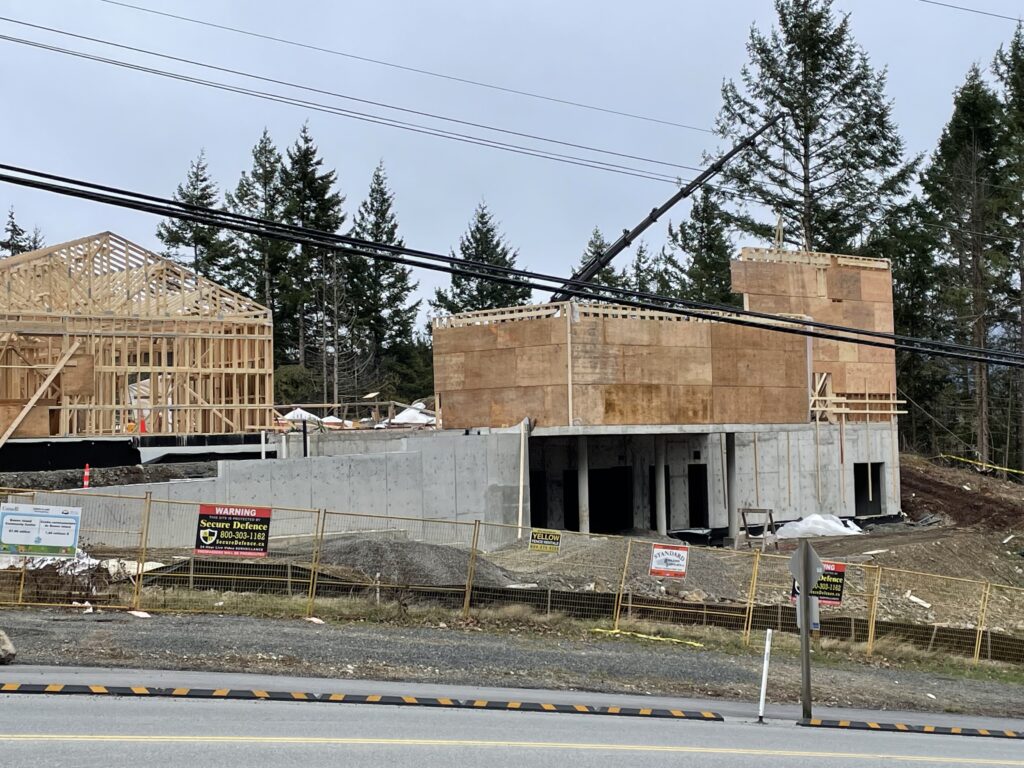 There has been significant vertical progress since the last update. Have you noticed the roof trusses going up? The area closest to the road where framing has just started is the backstage area of the Performing Arts Auditorium. Next year we'll be booking tickets for performances!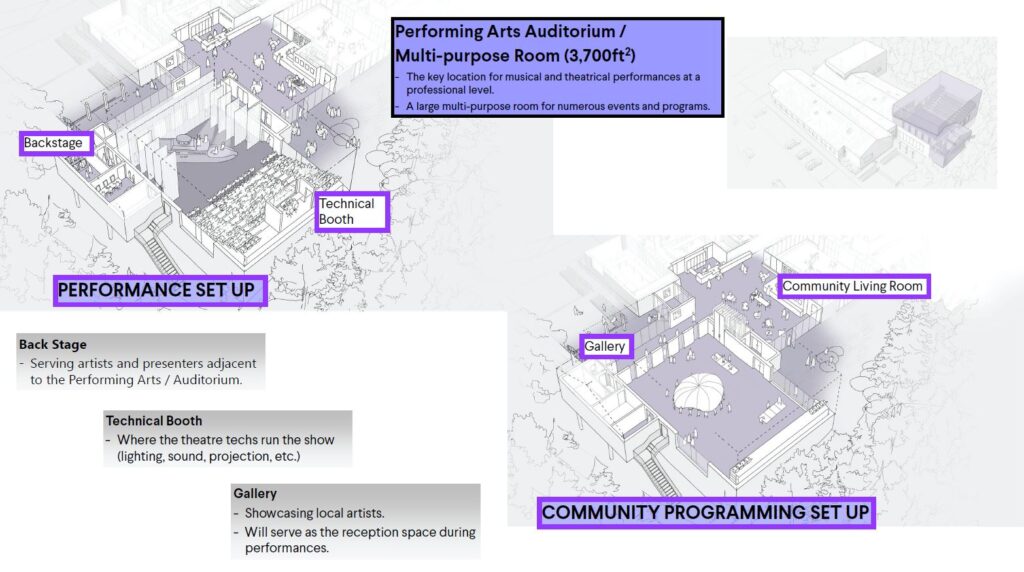 We're getting closer to a move in date for this much-needed community hub. We're just months away, rather than years. This versatile community space has vast possibilities for programming, events, community groups, public meetings, recitals, and more. This really will be a legacy for future generations.
FAQ: Are we over budget?
The budget is firm at $18.7 million and has been for several years. Previous iterations of Community Centre plans had different price tags, but as we consolidated the design and factored increasing cost of labour, equipment and materials, the budget was set at $18.7 million.
FAQ: Are we underfunded?
At the Community Centre Select Steering Committee Meeting on February 7, 2023, BIM's CFO, Kristen Watson, presented a Summary of Community Centre Costs and Funding Sources.
We've spent just over $6 million of the $18.7 million budget. Of the remaining $12,668,649, $10,492,854 is confirmed funding and $2.2 million is unconfirmed. Funding may be unconfirmed for several reasons:
We're waiting to hear the results of several grant applications
We've identified a possible funding source/grant that's being investigated
We're exploring fundraising opportunities
Speaking of fundraising, now is a great time to consider a donation to Community Centre and play a part in building this legacy for the community. There are a number of ways to do this.
Sponsor a seat in the performing arts auditorium, name a room, make a one-time, monthly or annual donation. To discuss options please contact Jacqueline Massey, jmassey@bimbc.ca or make a donation with your credit card right now.
Update January 2023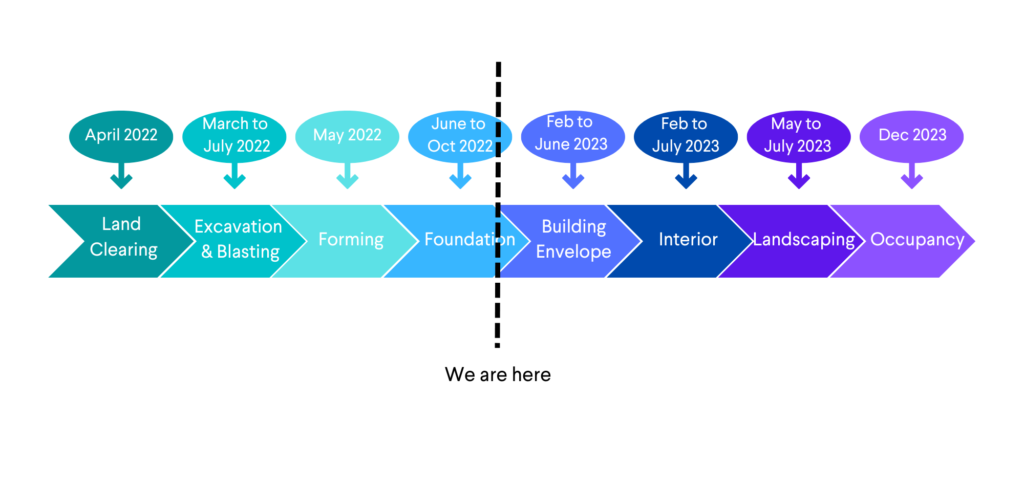 2022 was a busy year.
We completed land clearing, excavation & blasting, and forming.
We're currently working on finishing the foundation and building envelope, and in 2023 we'll be working on the interior, landscaping and finally, occupancy!
In the last quarter of 2022, we poured slabs for floors including a portion of suspended slab for the main floor.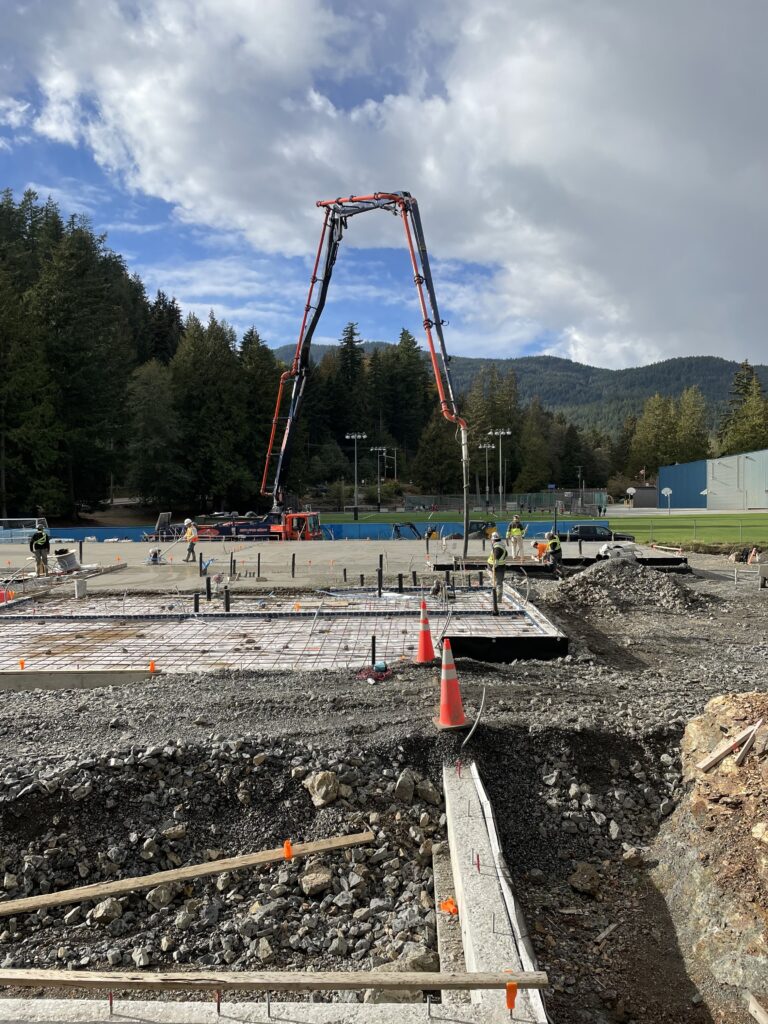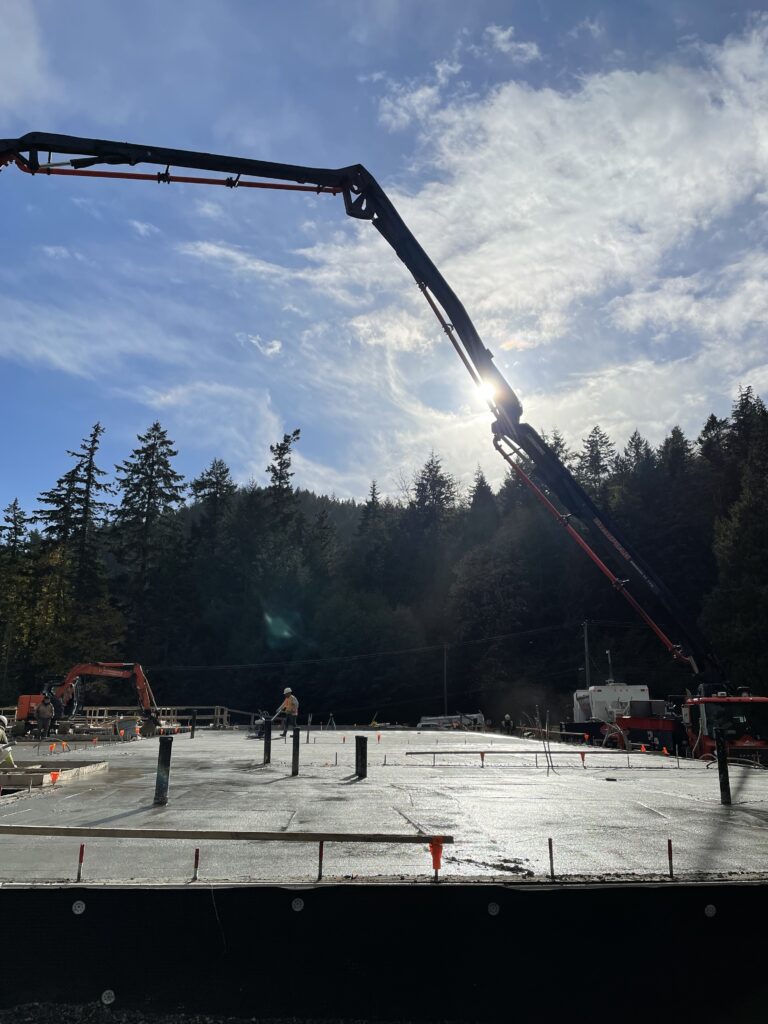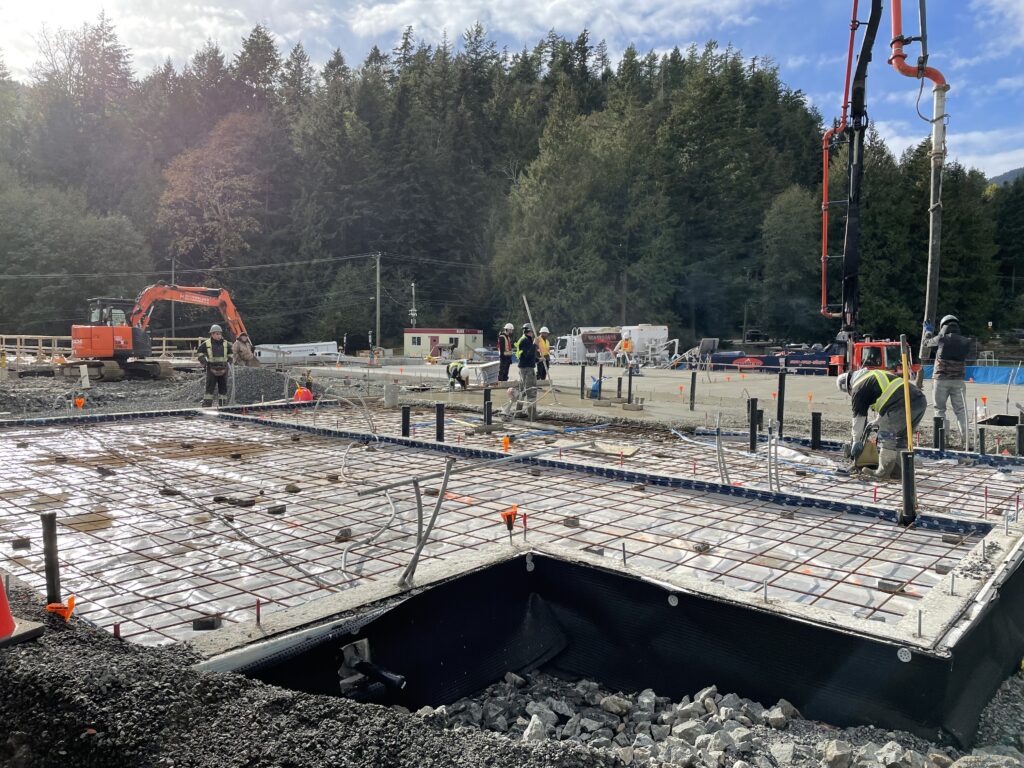 Roughwork in the basement was completed, and the framing started in December 2022.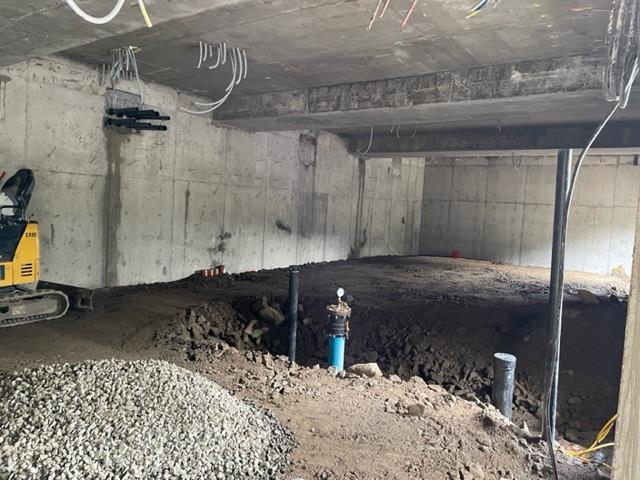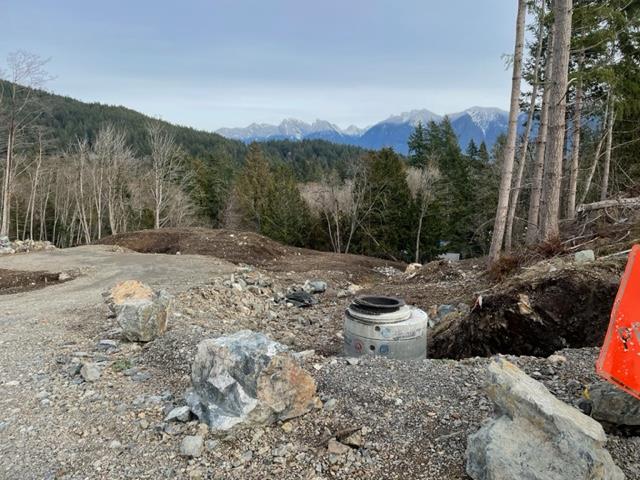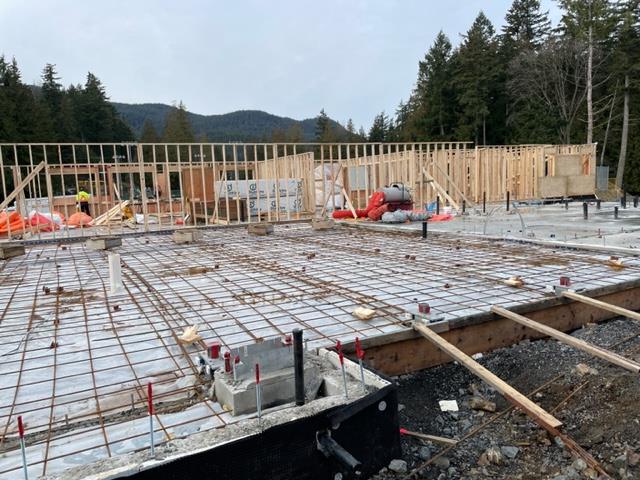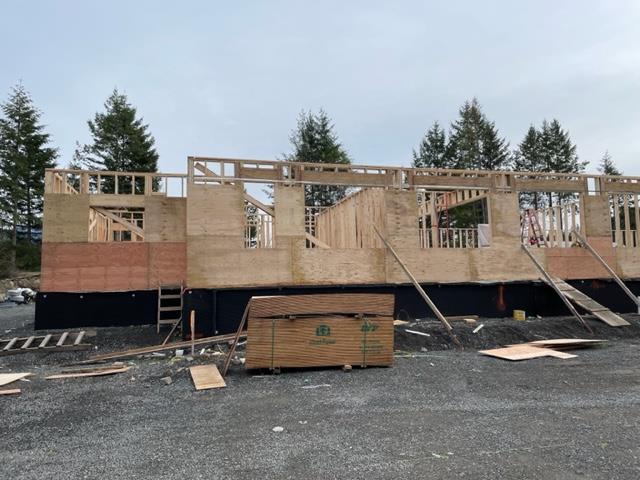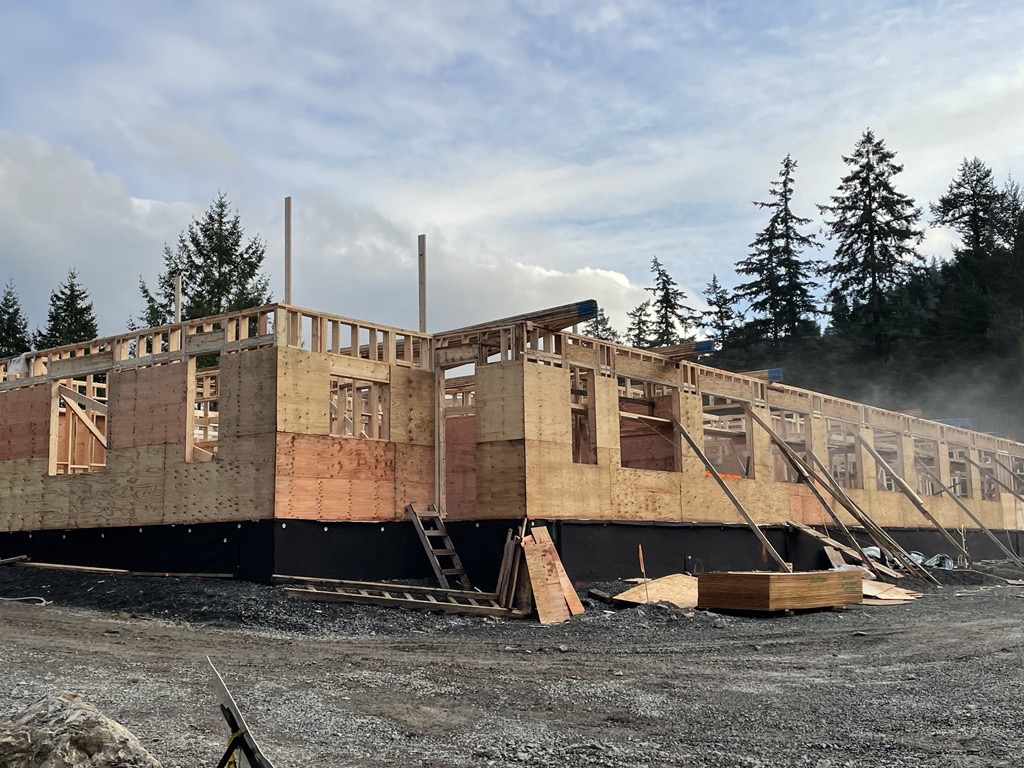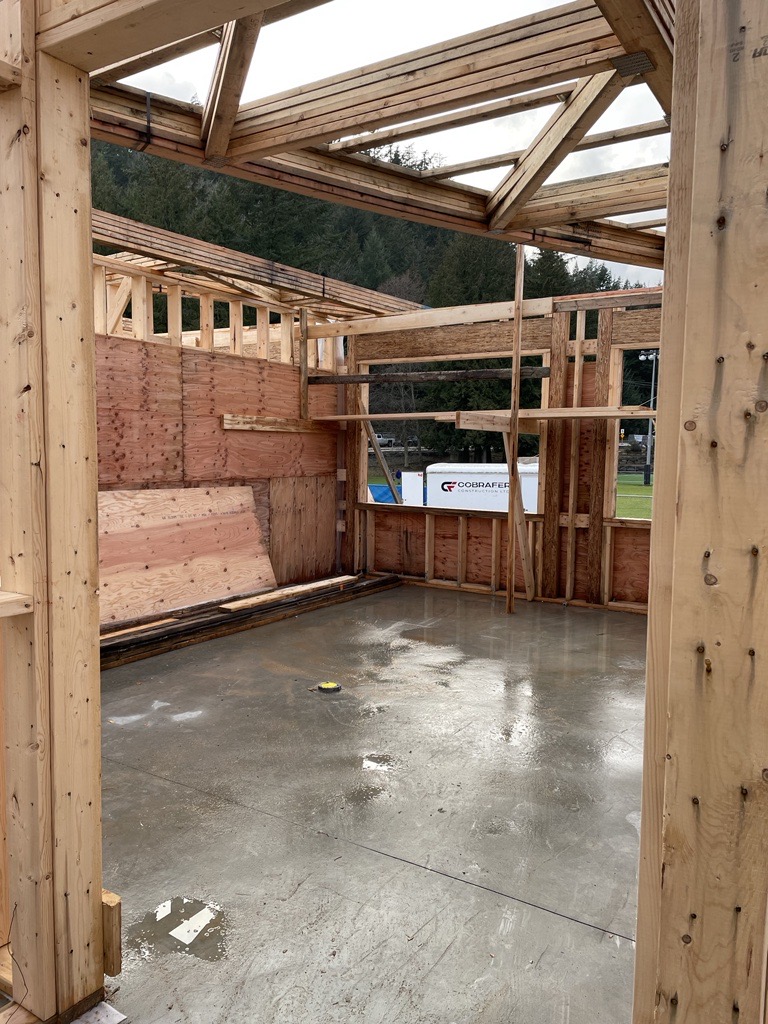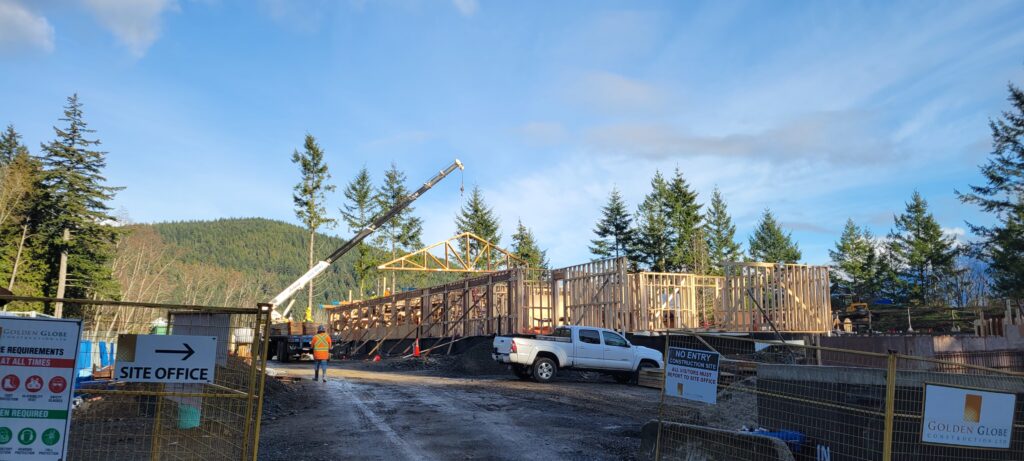 Next steps include:
Complete work in basement
Continue framing
Work on building envelope
Here is the designer's idea of the completed structure with landscaping: It's a sunny day with children running on the lawn, an outdoor exercise class in progress and islanders are wondering the paths around the building. On the neighbouring lot, the BICS soccer field can be seen with a game in progress.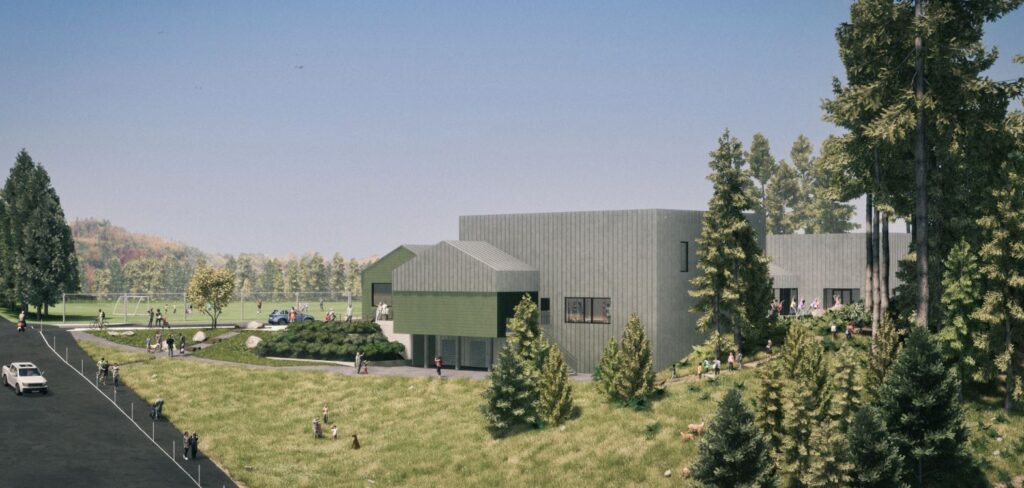 Step inside your new Community Centre, bustling with neighbours, family and friends.
On the left is the registration desk where you can:
Get tickets for a show
Buy a gym subscription
Inquire about program availability
Book a meeting room
Sign the family up for activities
On the right is a large community lounge where you can:
Take a load off and enjoy a comfortable seat
Check your email while you wait for the kids to finish a program
Socialise with other parents and caregivers
Head down the corridor to find the rooms for playcare, indoor programming, exercise classes, weight lifting, washrooms, showers and more.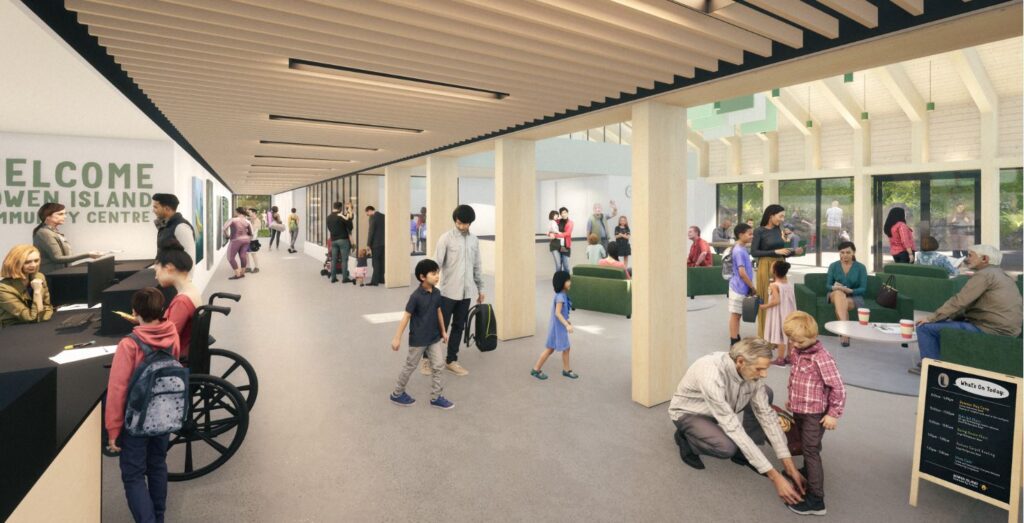 Finances
BUDGET $18,700,000.00
| | |
| --- | --- |
| Spent to date | $6,500,000.00 |
| Cost to complete | $12,000,000.00 |
Fundraising: we're getting close
Learn more about sponsoring a seat, naming a room and other donations.
Donations of $200 or more will receive a public acknowledgement on a donor recognition installation. Donate online now by credit card, or by cheque, debit or cash at Municipal Hall. Donate now
Community Centre Select Steering Committee Meetings
February 7, 2023
Watch the meeting on YouTube.