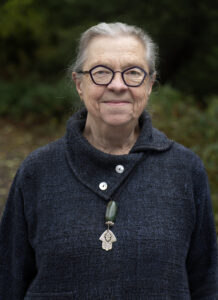 E-mail
Telephone
Biography
Judi and her brother and sister were born in Montreal and raised in Toronto with English and Scottish parents. Her dad caught polio when she was 5 and was in a wheelchair until he died 13 years later. Her mom worked as a head nurse on full time nights in emerg for many years, so she could be home before and after school.
Judi has a psychiatric nursing assistant certificate, an Honours B.A. and Master's in psychology, and a law degree. She moved to Vancouver for work in 1977 and to Bowen around 1980. She rented until 1989 when she got work teaching law in Hong Kong, and on the strength of that contract was able to buy her home. In addition to the teaching, she worked in the courts as defence counsel for 22 years and was a Judge for 17 years.
As much as work allowed, Judi has been a keen supporter of local politics, charities and arts groups; plus travel, textiles, photography, reading, gardening, and jam making have kept her busy. Council and Islands Trust are her next interesting chapter.
Member of